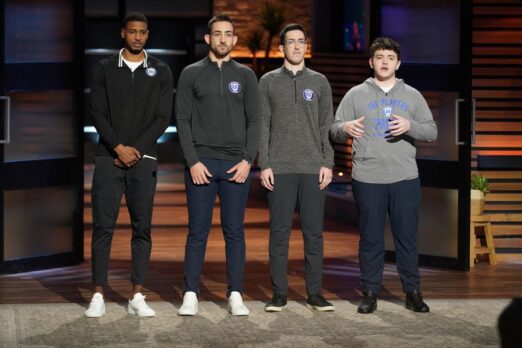 Charles Matthews, Hunter Pomerantz, Austin Pomerantz and Jason Lansing, their platform that lets college athletes sell their athletic gear, in Shark Tank episode 1313 – the season 13 finale. The guys all have sports backgrounds. Charles was a basketball player at University of Michigan and he won a national championship in 2018. Hunter was the manager of the Syracuse basketball team. Auston, who also went to Michigan, is Hunter's brother and a sports management major. Jason went to Michigan as well and managed their men's basketball team. Another partner, Zavier Simpson -who doesn't appear in the Tank, is the winningest basketball player at the University of Michigan.
The guys all know that at the end of a college athlete's career they have literally piles of uniforms, hats, tee shirts sneakers and so much more. When Charles and Zavier approached Jason and Austin and asked them to help them sell their old gear on Instagram, a lightbulb went on. They realized a centralized platform for selling the old gear would be more professional than athletes selling gear on Instagram willy nilly. In addition to basketball gear, they currently sell gear for athletes that play soccer, track and field, baseball, lacrosse and girls volleyball.
The way it works is you go to the site and pick a "trunk." Trunks are groups of memorabilia grouped by school. Simply browse by school (or by athlete), pick what you like and buy it. They also hold auctions for merchandise too. Michigan State's Cassius Winston sold a final four game worn jersey for $5000 at auction! In addition to gear, they sell autographed photos, trading cards and original merchandise. Athletes sign up on the website and one of the guys gets back to them to set things up. The Players Trunk handles photographing the gear, shipping and all transactional issues. They make money by taking a percentage of the sale. Since they've been working out of the Pomerantz family garage, they likely want money for a "real" facility.
Company Information
Video

Posts about The Players Trunk on Shark Tank Blog
Players Trunk – Memorabilia Marketplace
The Players Trunk Shark Tank Recap
Charles, Hunter, Austin and Jason enter the Shark Tank seeking $650,000 for 5% of their company. Charles talks about monetizing his personal brand. They explain how the process works. They have over 800 athletes on their platform. Mark Cuban explains the new NCAA rule that allows athletes to use their name, image and likeness.
The guys say their relationships are what makes them special. They also have licensing deals with a number of Universities. The company keeps 20% of the sales for players' game worn, team issued gear and 40% on the things they make like hoodies and tees. They have $1.3 million in sales in a little over a year. They made $200,000 on those sales.
Kevin O'Leary compares them to a public company and they're only worth $4 million. They raised a $1.2 million round a few months ago with a "respected venture capital firm in Chicago" at a $10 million valuation. Kevin calls it a stupid deal and he goes out. Kevin Hart says 5% isn't enough. Mark and Kevin team up to offer $650,000 for 30%. Mark pitches hard. Barbara goes out then Lori does too. Mark says there is no counter offer. The guys say the offer isn't in their best interest and they decline.
The Players Trunk Shark Tank Update
The Shark Tank Blog constantly provides updates and follow-ups about entrepreneurs who have appeared on the Shark Tank TV show. In the months following the initial air date, the company introduced limited edition playing cards and created a new auction site to auction signed player gear to the highest bidder. The Shark Tank Blog will follow-up on The Players Trunk & Charles Matthews, Hunter Pomerantz, Austin Pomerantz and Jason Lansing as more details become available.