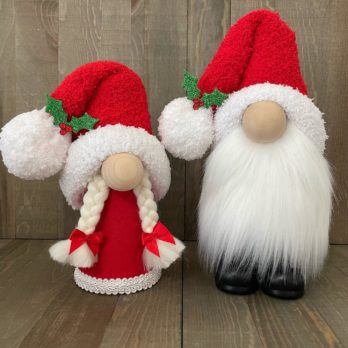 Wendy Hoffmeister and her daughter, Amber, hope the Sharks like gnomes when they pitch Wendy's Gnome Shop in Shark Tank episode 1308,  the 2021 "Holiday Special." Gnomes have been part of western folklore for hundreds of years and are thought to bring good luck. The custom of putting gnomes in the garden became popular in the 1800's and they are still popular today.
The gnomes from Wendy's  aren't meant for the garden, they are purely for indoor decoration. Wendy, a labor and delivery nurse by profession, began making the gnomes as a craft hobby in 2019 because she "thought they were cute." In April, 2021, she became a full time gnome maker. Her daughter, also a nurse, joined her as a full time gnome maker shortly thereafter. Wendy says her gnomes are in every state in the USA and in many foreign countries.
The gnomes themselves are cute. They feature long beards and their hats are pulled over their eyes. They are made out for foam, cardboard, wood and fabric. There are gnomes for every holiday: Halloween, Easter, St. Patrick's Day, Valentine's Day  and, of course, Christmas. Wendy will even do a custom gnome for you. She plans on offering a "design your own gnome" service in the future as well. Each gnome costs about $30-$40 depending n the style. They are made in the USA in Charlotte, NC. Will a Shark want to be a gnome maker?
Company Information
Video

Posts about Wendy's Gnome Shop on Shark Tank Blog
Wendy's Gnome Shop – Holiday Themed Gnomes
Wendy's Gnome Shop Shark Tank Recap
Wendy and Amber enter the Shark Tank seeking $200,000 for 20% equity in her company. She says she makes her gnomes to spread happiness. Then, she lists all the types of gnomes and says she likes "hanging with the gnomies." Once she's done, she has custom gnomes for all the Sharks except Barbara who is invited onstage to design her own gnome.
They get 50% of sales from their website and 50% from Esty. Customer acquisition cost is around $5. She sells the gnomes for $35 and they cost $3.50 to make. Kevin asks about other gnomes on the  market, she says yes and Kevin can't believe they sell for $35. In 18  months in business, she sold $668,000 in product. She's the top gnome seller  on Etsy.
Daymond wants to know how she did it. She was divorced 2 years ago. She mended her broken heart by making gnomes. When the first one sold on Etsy, she made more. Wendy started the business with less than $1000. The Sharks love that. Last year she had $138,000 in net profits. She talks about her background in nursing. Lori asks Amber about her mom and Amber says she is proud of her.
Kevin says he doesn't need a gnome in his portfolio. Lori thinks they're cute, but she's out. Mark thinks the business is too niche and he's out. Daymond wants to know what she's looking for from a Shark. She says she needs help with SEO and sourcing materials. Daymond offers $200,000 for 35%. Barbara asks why she has low net profits based on sales but Etsy fees are eating into her profits. Then, Barbara offers $200,000 for 30% plus a "buck a gnome." Daymond counters with $200,000 for 30% plus 50 cents a gnome until he recoups his money. Barbara counters with $200,000 for 30% with no royalty.
After a break, Wendy asks if Daymond will match Barbara's deal; he says he will. After Barbara and Daymond argue a bit, Wendy counters with 25%. Barbara and Daymond both say no. After that, Wendy goes with Daymond.
Wendy's Gnome Shop Shark Tank Update
The Shark Tank Blog constantly provides updates and follow-ups about entrepreneurs who have appeared on the Shark Tank TV show. On the night of the original air date, Daymond tweeted the following:
And for all my gnomies out there (no, I won't stop saying that), @WendysGnomeShop is offering 15% off of ALL gnomes. Use the code "SHARK15" at checkout. Discount valid until 12/13 only at http://wendysgnomeshop.com
In the week following the original air date, Wendy went from selling 40-50 gnomes per day to over a thousand per day. She said she'd like to open a store some day, too. She's considering using Daymond's money to open a new production space. In December, 2022, she introduced a gnome of the month club.
I will update this page as more information becomes available.