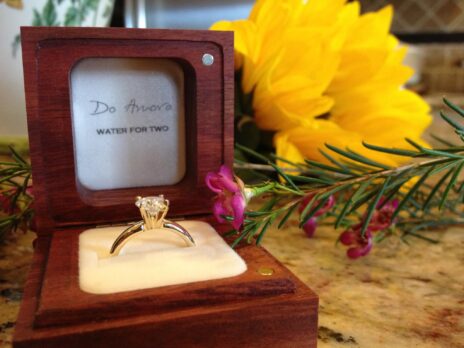 Krish Himmatramka pitches Do Amore, his ethical engagement ring company, in Shark Tank episode 1320. Himmatramka, a mechanical engineer by profession, started the business back in 2014 with the mission to "make a huge impact in the world, while running a sustainable and competitive business." Do Amore means "I give with love" in Latin. The company is a jewelry business with a heart – a portion of their profits goes to creating access to clean water in developing nations. You can even see where your ring is having an impact with a tracking feature on the company website.
The jewelry itself is made from sustainably sourced diamonds from conflict free areas of the world. The company actually suspended all Russian diamond purchases after Russia invaded Ukraine. Diamonds are sourced from mines in Canada, Botswana, Namibia, and South Africa. They also use diamonds from old jewelry and put them in new settings. In addition to that, they also sell man-made diamonds that are created in a laboratory.
The settings are all made from recycled precious metals which eliminates the company's footprint from what are often "dirty mining" practices. In addition to wedding and engagement rings, Do Amore sells "regular" rings, earrings and necklaces. In addition to diamonds, they also make jewelry with ethically and sustainably sourced sapphires and Moissanite. The jewelry varies in price based upon the metal used in the settings and the type and size of gemstone. The company likely wants a Shark to help it manage its growth effectively.
Company Information
Video

Posts about Do Amore on Shark Tank Blog
Do Amore Jewelry – Sustainable Diamonds
Do Amore Shark Tank Recap
Krish enters the Shark Tank seeking $600,000 for 6% of his business. He says he's improving on one of the most important moments in the world. He explains how the business model works and says his rings have more meaning. Every ring, no matter the cost, contributes to a clean water project. Roughly 20.5% of profits go to clean water projects. Kevin says he's burdening the business. Krish explains he saw a baby die due to bad water in India, which inspired him to create this business.
Diamonds are only sourced from ethical mines. He started the business with $18,000 of his own money in 2013. In 2020, he did $8.3 million in sales. In 2021, he's projecting $11.5 million in sales. The Sharks are impressed with the numbers. On the $5.2 million he made in 2021 so far (the segment taped in June, 2021), he netted $460,000. In 2020, he netted a little less than $100,000. Lori is wearing a lab created, 2.5 carat sample ring worth $10,800. Average order value is $3900 and gross margins are 41% which is above average for an eCommerce jewelry company.
Daniel says Krish is an impressive business person but it's "not my world;" he's out. Krish says he never raised money other than the original $18,000 and he has $26 million in lifetime sales. Mark says Krish did a great job but there are no barriers to entry for competition; he's out. Barbara never had an engagement ring or wedding ring; she's out. Kevin appreciates Krish's enthusiasm and thinks he's a good entrepreneur. Kevin offers $600,000 for a $100 royalty on each transaction until he gets $1.8 million back. Kevin will also plug the business into his wedding platform. Lori says that's a good offer – far better than she'd offer; she's out.
After a break, Kevin asks Krish what he's going to do. Krish says he wants to convince others to come back in. He says he doesn't need the kind of help Kevin can provide. He needs help with distribution and marketing. Kevin says that's what he does. Krish counters Kevin with $600,000 for 10% equity and Kevin says no. Daniel comes back in and offers $600,000 for 15%. Krish counters with 12%. Kevin goes out. Daniel says he'll donate 3% of his share to the water cause and Krish takes the deal.
Do Amore Shark Tank Update
The Shark Tank Blog constantly provides updates and follow-ups about entrepreneurs who have appeared on the Shark Tank TV show. Once an episode has aired, we monitor the progress of the businesses featured, whether they receive funding or not and report on their progress. The company garnered so much attention on their original air date, their website crashed!
On show night, Daniel Tweeted:
I really believe in Krish and the mission @doamore is setting out to achieve. To celebrate, we are proudly donating $10,000 to Krish's cause @charitywater Learn more about how you can create a ripple effect with @doamore #SharkTank
2021 sales came in at $11 million. As of July, 2022, there is no evidence the deal with Daniel closed. By August, 2023, the deal with Daniel was officially dead. The company added other jewelry to the line including necklaces, earrings and more. To date, they've helped over 16,000 people access good drinking water. 2022 revenue was around $12 million.