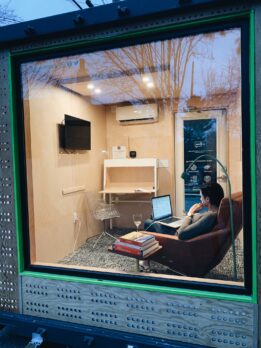 Robbie Friedman and Allison Zofanr hope a Shark invests in OotBox, their tiny offices that can be delivered anywhere, in Shark Tank episode 1320. OotBox stands for "out of the box." Friedman, an attorney by profession,  originally got the idea when he found it difficult to have sensitive conversations with clients while working at home. He started the company in 2018 after a successful exit from a legal billing software company he founded. OotBoxes were officially launched in 2020 – just in time for the Covid-19 pandemic.
An OotBox is a small office that can be delivered anywhere (think Pods for moving but it's an office). They're insulated, heated and air conditioned. Offices can be set up in a variety of configurations depending on what it will be used for. You can even custom brand it with logos for an extra fee. The beauty of the OotBox is there are no permits required to place one on your property, whether it's commercial or residential. All you need is a level spot and a 20amp NON-GFCI outlet.
The offices are made in Ohio from old shipping containers and come in two models. The OG model is 8 feet long, 8 feet wide and 8.5 feet high. The O2 model is the same size, but one wall is all glass. These can be used as an office or a retail space. While you can buy them – they start at $20,500 before any customizations – the company is more focused on leasing. The OG costs $1000 per month and the O2 is $1100 per month with a four month minimum rental. The company delivers them and takes them away. If you want to purchase a unit, they'll apply the first year's rent to the purchase price.
Company Information
Video

Posts about OotBox on Shark Tank Blog
Oot Box – Portable Tiny Offices
OotBox Shark Tank Recap
Robbie and Allison enter the Shark Tank seeking $300,000 for 5% of their business. They explain how they've created more space. Next, they explain the uses as they show scaled down models they brought to the studio and video of the boxes being delivered. Robbie says they have increasing demand. Lori asks about the containers: each Ootbox is half a shipping container.
Daniel doesn't understand the need for the product. Mark says he can think of 1000 reasons people need it, but he wants to know how much. Robbie explains they both lease and sell them. When he tells Mark they start at $20,500, Mark says "ouch." Revenue for roughly half of 2021 is $900,000. Barbara asks about permitting and Robbie says they're considered a tool shed. He goes on to explain they are for temporary use.
To date they raised $870,000 for 30% of their company. Margins are about 40% when they sell one. Each box costs $12,000 to build. Most customers lease them. The average lease term is 8 months and 60% of their customers either renew their lease, order another box or purchase the box.
Lori thinks it's clever but it's not the right investment for her; she's out. Barbara wants to know how they'll use the Shark's money. Robbie says he'll use the money for more space. Mark doesn't think this is a "hockey stick (growth graph)" business; he's out. Daniel is unsure if their growth was connected to the Covid-19 pandemic; he's out. Kevin thinks it's too capital intensive, but he makes an offer. He offers $300,000 for 5% and he gets $1000 per box when they sell one until he recoups $600,000.
Barbara compares this business to Boho Vans, a company she invested in in season 11. She offeres $300,000 for 20% of the business. Robbie looks as if he doesn't like Barbara's offer. Kevin then says he'll do $300,000 for 15%. Robbie counters Barbara with $300,000 for 7%. Barbara says she'll do it for 10%. Kevin goes to 9%. After a brief huddle, they accept Barbara's offer.
OotBox Shark Tank Update
The Shark Tank Blog constantly provides updates and follow-ups about entrepreneurs who have appeared on the Shark Tank TV show. On show night, Barbara Tweeted:
In the week following the show, they signed more leases than they did the first three months of  2022.  The company is also developing a "flat-pack" office that can be sold on Amazon. As of August, 2023, the company is on track to do over $2 million in revenue for the year.
The Shark Tank Blog will follow-up on OotBox & Robbie Friedman and Allison Zofanr  as more details become available.