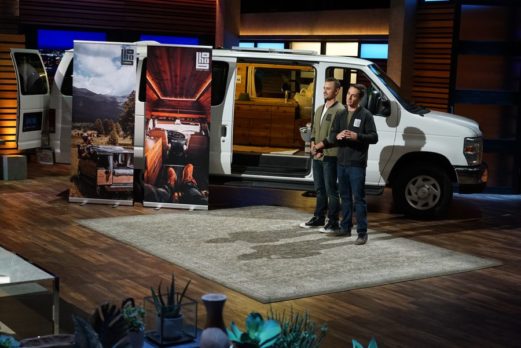 David Sodemann and Brett Ellenson seek an investment for Boho, their budget camper van rental and sales business, in Shark Tank episode 1117. The idea for Boho came when David rented a van from Outdoorsy with company co-founder Sarina Gomez to explore Maui. Upon their return, they decided to build their own van. After two months of work, they had a finished van and rented it out on Outdoorsy. Outdoorsy is like an AirBnB of campers that provides insurance and background checks on renters.
Boho doesn't use new vans when making their custom campers. They find good quality, used Ford E350 and Dodge RAM 3500 vans then custom fit them with wood paneling, a double bed, sinks, shower, grill and cooler. They'll add custom accessories at a customer's request – the strangest being a built in Fusball table.
The business model is twofold. Boho has a small fleet of vans they rent from their Tempe, AZ location. They also build vans for people who want to experience the "van life." Rentals vary in price based on length of rental and time of year. Custom vans range from $25,000 – $40,000 plus, depending on the features requested; those prices do not include the cost of the van.
What David and Brett want to do is expand their rental business and increase their sales of custom vans. They need marketing money and some seed capital to expand. They hope a Shark will want to camp some cash in their business.
Company Information
Posts about Boho on Shark Tank Blog
Boho Shark Tank Recap
David and Brett enter seeking $300,000 for 10% of their business.  They tell their story and give a brief history of their backgrounds. To date, they have 5 rental vans and fabricated 12 for paying customers. 2019 sales are $500,000 and they're projecting $1.9 million for 2020. They want the Shark cash to purchase pre-fab components so they can customize vans quicker.
The Sharks are impressed by the guys, but not by the valuation and the offers reflect that. Rohan offers $300,000 for 25%. Kevin offers $300,000 for 33.3%. Barbara offers $300,000 for 10% but half of it is a loan. She also says she'll continue to fund the business as cash needs arise. Kevin revises his offer to $300,000 as a loan for 7% of the business. Lori jumps in and offers $300,000 for 20%. After mulling things over, they accept Barbara's offer.
Boho Shark Tank Update
The Shark Tank Blog constantly provides updates and follow-ups about entrepreneurs who have appeared on the Shark Tank TV show. This episode originally aired on March 20, 2020 – the date most of the country shut down due to the Covid – 19 pandemic. While Barbara doesn't list the business on her website, there are several reliable sources that indicate the deal closed: the company Facebook page and Business Insider. While rentals probably slowed or died during the pandemic, the company continued to build vans throughout it.
They get an update segment in episode 1209 where we'll likely learn more. In the update, we learn they got a lot of orders in 2020, though the rental side of the business took a bit of a hit at the beginning of the pandemic, they were totally booked after the first few months. The post pandemic landscape has made it more difficiult to source quality used vans and the ones they can find are more expensive. As of June, 2021, they're on track to do over $2 million in sales for the year. As of March, 2022, they reported over $5 million in sales for 2021.