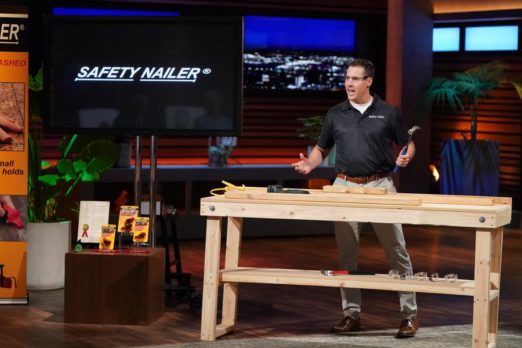 Drew Zirkle hopes to nail down an investment for Safety Nailer, a product that magnetically holds nails in place while protecting your fingers, in Shark Tank episode 1117. The patented product was invented by Drew's college buddy and his wife, Daniel and Kristen Eifes. The Eifes' designed and patented the product in 2012 when Daniel was medically discharged from the Navy. Daniel is medically unable to participate in the business, so his wife partnered with Drew to bring the product to life.
Daniel enlisted Drew, an engineer, as a partner to help bring the product to market. The Safety Nailer is a small plastic shield that straps to your forefinger and thumb. It helps hold the nail in place magnetically while preventing injury from a "bad swing." It also holds screws.  The original version is for nails longer than a half inch. They're also introducing the "mini" nailer for smaller nails and screws.
The business got their initial funding from a Kickstarter campaign that raised $8663 in July 2019. Other funds came out of their own pockets and from a $5,000 prize they won at the Start Peninsula competition for entrepreneurs and inventors. Both products are available on Amazon for just $8.99. The company wants its products on hardware and home center store shelves and they're hoping a Shark can help them nail down some distribution agreements.
Company Information
Video

Posts about Safety Nailer on Shark Tank Blog
The Safety Nailer Protects Your Fingers
Safety Nailer Shark Tank Recap
Drew enters seeking $100,000 for 14% of the business. Drew tells the Sharks how he bought his own injection molding machine to get the business started. They had partnered with another company that wasn't taking the products in the right direction, so now they are looking to manufacture overseas. Since Drew has a full time job, he wants a Shark to help him with moving the company ahead.
The Sharks say Drew has "a product, not a company." When Drew senses he's losing them, he pulls a toy he made out of the nailers' magnets out of his pocket. The Sharks like that he's pulling out all the stops. Mark likes the toy and wants to do a group deal with the idea of licensing the products. Eventually, Mark, Lori and Rohan bid $100,000 for 33.3% and Drew accepts.
Safety Nailer Shark Tank Update
The Shark Tank Blog constantly provides updates and follow-ups about entrepreneurs who have appeared on the Shark Tank TV show. This episode originally aired on March 20, 2020 – the date most of the country shut down due to the Covid – 19 pandemic. The deal with the three Sharks never closed. Safety Nailer products are still available on Amazon. The product is now available at Ace Hardware Stores nationwide.
On May 2, 2020, Drew got Newton's Spindle (the toy he pulled out on Shark Tank) funded on Kickstarter. They also have three new products available for pre-order on the company website: the aforementioned toy, a carpenter's pencil sharpener and a patent pending sponge holder.
By May, 2022, all the aforementioned products are available to order. As of August, 2023, the company is still in business with revenue of around $2 million annually.
***Editor's Note: I have a couple of these, they've saved my thumbs more than once!***