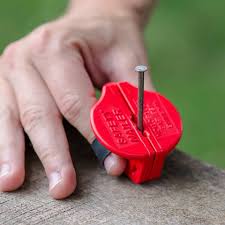 The Safety Nailer was invented by Navy Veteran Daniel Eifes in 2012 after he was medically discharged. If you've ever whacked your thumb with a hammer, you will want this product. It's a small plastic "bumper" that holds a nail securely in position and protects you from painful "errant strikes."
It took Daniel, and his business partner, Drew Zwirkle (an engineer and college pal), six years to properly design and patent the product. Back in 2018, they got rolling with $8,663 they raised on Kickstarter in April, 2018. They "won" another $5,000 in November, 2018 at Start Peninsula, an entrepreneur and inventor competition hosted by the City of Newport News, VA. Those funds went toward developing The Mini Nailer, a smaller version of the Safety Nailer used for finish nails.
Since then, things have gone well for the young business. They sell on Amazon and have product in ACE, Walmart, Home Depot and more. It's one of those "why didn't I think of that" products. It's so simple, yet so important. Drew, who is pitching The Safety Nailer in Shark Tank episode 1117, hopes he can get a Shark to help him and Daniel make this product ubiquitous in every toolbox in the world.
My Take on The Safety Nailer
When I first saw this product, I knew I wanted BOTH versions. I've personally remodelled three homes and I'm always doing something around the house. I can't tell you how many times I've whacked my thumb either from a total miss or the nail slipping out of position. This product is a life saver.
It's cheap, too. They're only nine bucks each on Amazon. My thumbs are worth much more than that. Not only does it protect, it also magnetically holds the nail firmly in place at precise angles to prevent buckling. You can even use it to hold screws. This will be the newest addition to my toolbox, I am IN!
Will Sharks Nail Down a Deal?
I think The Safety Nailer gets a deal. In fact, there will probably be a bidding war. This product is right up Lori's alley, but the other Sharks can get this type of consumer product onto the shelves at the Home Depots of the world very quickly. The fact that it is veteran owned is a plus too.
I expect AT LEAST three Sharks to bid, perhaps all five. The only Shark I see possibly not bidding is Rohan since it's a bit out of his wheelhouse. This will be the big winner of the night.