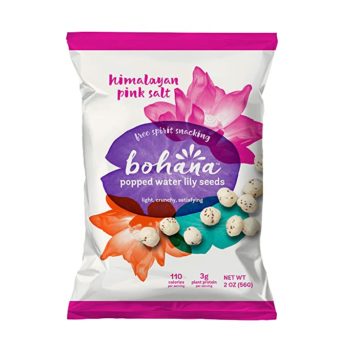 Bohana is a word mash of botanical and makhana – the latter being the Hindi word for water lily seeds. When water lily seeds are put over high heat, they pop into a puff like popcorn. Unlike popcorn, Bohana has 67 percent less fat, 20 percent less calories and 50 percent more protein. The puffs became company co-founder Nadine Habayeb's favorite snack after her friend and fellow co-founder, Priyal Bhartiya, introduced her to them.
Nadine loved the puffs so much, the two women decided to start Bohana in 2017 to market this new healthy snack food to the American consumer. They believed healthier snack food alternatives were the wave of the future and started selling direct o consumer via their website almost immediately. In October, 2018, they began distributing through UNFI, a natural foods distributor, in the Northeast and they have product in about 150 independent grocery stores.
Priyal comes from an Indian family that brings agricultural products to mass retail. Nadine's expertise is in marketing, so the two make a good team. They got $20,000 as part of PepsiCo's Nutrition Greenhouse North America program which guides promising healthy food and beverage start-ups. They also have two other investors who gave them some (pardon the pun) seed money.
Next Steps
Nadine wants to build a brand since popped water lily seeds aren't proprietary. She believes the nutritional message and how they source their product will help them stand apart from the crowd. They grow their seeds on a sustainable farm in Bihar, India. Water lily seeds are fastest growing cash crop for the Indian agriculture economy. Priyal's family connections allow the company to source directly through a network of farmers while cutting out the middleman.
After the seeds are picked, they're shipped to the USA for popping and packaging. Now that they have their supply chain in place, what the women want next is national distribution. They have the brand and proof of concept in place, now they want to go big. That's why they're in the Shark Tank.
My Take on Water Lily Seeds
I've actually tried this snack. My daughter LOVES them. They're tasty and they satisfy that salty/crunchy craving that makes so many of us gobble down junk food. The women have a good story and they seem to have gone about starting things up in a smart way. Their sustainability story and the healthy snack angle give them a good edge in the Tank.
Their challenge will be convincing the Sharks of the value of both their brand and supply chain connections. If they can do that, they'll win big. I will buy them when they're in my local stores, so I'm in.
Will Sharks Give More Seed Money?
It's no coincidence that Bohana is on the show with Rohan Oza. He'll be familiar with the snack as an Indian American. Whether that gives Bohana an edge or not remains to be seen, but Oza is sure to value the work the women have put into the company.
As for the other Sharks, any one of them could bid. They all have snack foods in their Shark Tank portfolios. Mark in particular has been a steady investor in healthy snack food businesses. I predict Bohana will get a deal either from Oza or Mark.