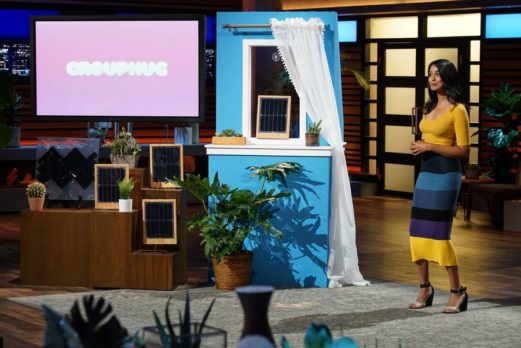 Krystal Persaud wants a Shark to invest in GroupHug, her company that makes window solar panels, in Shark Tank episode 1117. Persaud graduated from Georgia Tech's Industrial Design program and worked at littleBits, a STEM electronic educational toy maker for six years. She always wanted her own business, but wasn't sure what it would be. She knew she wanted a sustainable product and solar power came up in a lot of conversations she had with people. City dwellers in particular wanted access to solar power, but the confines of apartment living make it nearly impossible for individuals. That's when she got the idea for GroupHug.
Once she decided on a solar product, she learned everything she could about it by asking questions from a design perspective. One problem she encountered is that there were a lot of people who wanted solar panels, but didn't own their own home. That was the inspiration for GroupHug. The GroupHug solar panels look like a picture frame; they're designed to hang in any sunny window and they'll charge USB devices like phones, tablets, etc. Persaud thinks she's changing the way people look at renewable energy in "baby steps" while offering a product that both works well and looks good.
Kickstarting the Business
She got the business up and running with a successful Kickstarter that raised $70,760 back in July, 2019. Her flagship product, the window solar charger is about the size of a standard piece of paper that has solar panels and a battery built into a bamboo frame. It takes about 8 hours to charge the battery which will charge a standard iPhone twice. The price is $149 and it's available for pre-order now on the company website; delivery is expected in May, 2020. She also makes custom solar panels in the shape of company logos or mascots.
Krystal would like a Shark to help her ramp up production and get her product out in front of more consumers. Will a Shark see the light and invest?
Company Information
Video

Posts about GroupHug on Shark Tank Blog
Group Hug Personal Solar Panels
GroupHug Shark Tank Recap
Krystal enters seeking $150,000 for 10% of her company. She passes out samples and explains the product. As of the taping of the show, she hadn't fulfilled her Kickstarter orders.
She tells the Sharks she wants cash to scale up production and bring costs down. All the Sharks, but one feel she's too early to be invest able. Mark sees opportunity on the business to business side of things. He thinks companies would buy solar charging stations for sponsored phone charging stations. When he offers $150,000 for 25% of the company, he says it's non negotiable. Krystal accepts.
GroupHug Shark Tank Update
The Shark Tank Blog constantly provides updates and follow-ups about entrepreneurs who have appeared on the Shark Tank TV show. The deal with Mark closed and Krystal exchanges weekly emails with him. This episode originally aired on March 20, 2020 – the date most of the country shut down due to the Covid – 19 pandemic. It also shut down Krystal's supply chain, delayed orders, and eliminated their B2B and public installations. As of May, 2020, the original Kickstarter orders still have not shipped due to production delays in China. Also in May, Krystal and Mark had a Q&A:
In September, 2020, the company finally shipped its Kickstarter rewards. As of July, 2022, the company has solar panels in every state and has sales of $900,000-$1 million annually.