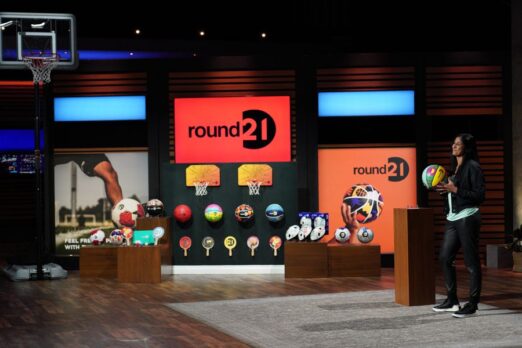 Jasmine Maietta hopes to hook a Shark for Round 21, her line of artistic ping pong paddles, soccer balls, basketballs and footballs, in Shark Tank episode 1316. Maietta's life pretty much revolved around basketball. She was a varsity athlete at Bowdoin and went  on to play professionally for a year on a Spanish league team called Club Baloncesto de Tres Cantos. She also coached for six years at a variety of venues and levels. After that, she had stints at Reebok, Under Armor, Hasbro and Peleton – where she rose to the level of Global VP.
She left the corporate world in June, 2020 to found Round 21 "to celebrate the originality within each player through art and to bring people together through play." She started with ping pong paddles. The paddles were adorned with artwork. Soon she moved on to basketballs, footballs, soccer balls and backboards. The products are designed by a diverse group of artists and released in "drops" of limited edition items. She even has a partnership with the NBA.
Basketballs and soccer balls cost $59. There are NFLPA licensed footballs with art based on players like Tom Brady, Patrick Mahomes and more for $150. Ping pong paddles range in price from $115 to $160 depending on the artwork. All products are available on the company website and Amazon. Jasmine likely wants a Shark's help managing growth and securing more licensing deals. Will a Shark play ball with this company?
Company Information
Posts about Round 21 on Shark Tank Blog
Round 21 Shark Tank Recap
Jasmine enters the Shark Tank seeking $250,000 for 3% of her business. She says sports are a universal language. Her company partners with athletes and artists to provide her products and she has a growing community. She also sells NFT's. The Sharks examine their samples.
The revenue is split between the athlete and artist. Artists either get an upfront fee or 10% of sales. Lifetime sales are $354,000 of physical goods and $20,000 in NFTs. Diana explains her roots and how her basketball roots led her to marketing at Under Armor, Reebok and Hasbro. She expects to have $510,000 in sales for 2021 with around $73,000 in gross profits. Net profits are negative and she's burning $10,000 a month in cash.
She recently raised $1.39 million at 6.25%. Lori thinks Jasmine is impressive, but she's not the right Shark; she's out. Robert doesn't think this is for him; he's out. Daymond thinks it's too early for him; he's out. Mark wants to know why sales aren't higher. Jasmine says she has PO's with major sports retailers. Mark says he's doing similar things with the Mavs; he's out.
Kevin says he owns the URL NFT.com and he's doing a lot of work in that space. Kevin won't go to work for 3%. He offers $250,000 for 15%. Mark encourages her to take it. After a commercial, Kevin says he'll figure a strategy to blow the business up. Jasmine counters with $250,000 for 5% and an advisory share plus 10% of all NFTs sold. Kevin counters with $250,000 for 11% plus 2% of all NFT sales. He then says he'll go to 10% plus 1.5% of NFT sales. Jasmine takes the deal.
Round 21 Shark Tank Update
The Shark Tank Blog constantly provides updates and follow-ups about entrepreneurs who have appeared on the Shark Tank TV show. The first re-run of this episode in July, 2022, airs just four months after the original air date. As of this time, the deal with Kevin has not closed. The FTX bankruptcy in the fall of 2023 and the crashing cryptocurrency market negatively affected the company's NFT sales, but sales of physical goods are still steady. By January, 2023, the deal with Kevin never closed. Reliable revenue figures are unavailable at this time.
The Shark Tank Blog will follow-up on Round 21 & Jasmine Maietta  as more details become available.