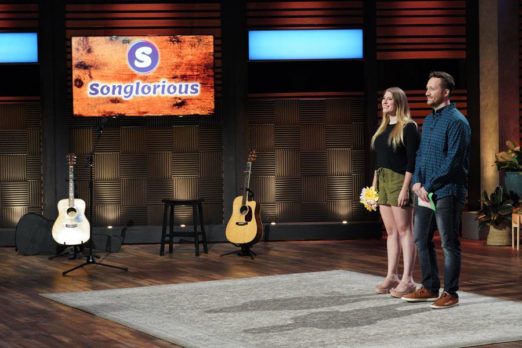 Ellen Hodges and Omayya Atout serenade the Sharks with Songlorious, their "custom song" business, in Shark Tank episode 1302. The husband and wife team started their business out of their Brooklyn apartment. They're both music lovers and they believed they could help people share their personal stories with a song. They work with 150 or so musicians and have produced over 10,000 songs to date.
The way it works is you go to the website, pick  a musical genre (rock, hip hop country etc.), choose the length of the song and the mood. There are boxes to tell your story, who the song is from and for and tell them 4 things that must be in the lyrics. You also have the option of choosing your artist or letting Songlorious pick them. There are profiles and sample work of all their artists on the site.
The cost varies on the length of the song. A 30 second "jingle" is $45, a one minute song is $90, two minutes is $145 and three minutes is $195. If you want to choose your own artist from their list, it costs an extra $20. The song is delivers on a personal web page, streaming service or a USB stick shaped like a cassette. There are several similar services out there and even artists on Fiverr that will do it. Ellen and Omayya likely want a Shark to help them become the premier service in this space. Do Sharks like this music?
Company Information
Video

Posts about Songlorious on Shark Tank Blog
Songlorious Shark Tank Recap
Ellen and  enter the Shark Tank seeking $400,000 for 10% of their business. They explain their product is a gift with an emotional response. The couple explains the business model, then breaks into a song about the Sharks. The opening line is "Kevin O Kevin, your head reflects me, but that doesn't mean I don't think you're sexy." They go on to do little ditties about each Shark.
When they are done singing, they explain the pricing structure. The business did $700,000 in 2019 and $1.1 million in 2020. Profits were 9%. The original idea came to Ellen when a friend asked her to write a personal song for her wedding. They started the business in their apartment and when the Covid-19 pandemic hit, things blew up and artists began approaching them to perform. Their only competition is solo artists who do the same thing and companies that have song templates and just add a person's name to the song (read my example of that HERE).
They want the Shark's money for professional marketing help. As they explain they'll do $2.5 million in 2021, Kevin gets up and talks to Mark. Peter Jones claims he had a similar business and he thinks Songlorious could be huge. He offers $400,000 for 33.3%. Daymond then offers $400,000 for 20%. After a commercial break, Mark and Kevin offer $400,000 for 25%. Then, Mark says he'll bring in Peter with an offer of $400,000 for 33.3% for all 3 Sharks. Daymond then says he could join in if they do a 4 Shark deal at $400,000 for 40%. Daymond says the African American community loves music and he could work that angle. Mark then ups the bid to $500,000 for 40%. Ellen and Omayya huddle up and counter with $800,000 for 40%. The Sharks hold firm and eventually they do the deal.
Songlorious Shark Tank Update
The Shark Tank Blog constantly provides updates and follow-ups about entrepreneurs who have appeared on the Shark Tank TV show. Shark Tank Blog constantly updates on the progress of each business appearing on the show. The day after the show aired, the company announced they would now be offering Hip-Hop songs; perhaps that's evidence of Daymond's involvement. They also plan on producing songs in other languages, starting with Spanish and Arabic. On Oct 26, 2021, the company issued a press release indicating things are moving forward. They expect 2021 sales to top $2.5 million.