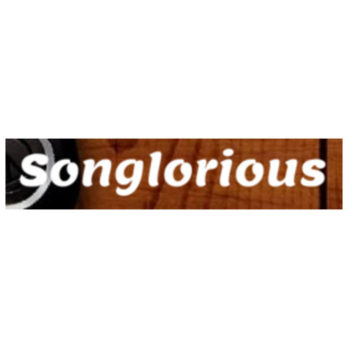 Husband and wife team Ellen Hodges and Omayya Atout created Songlorious, their custom songs business, out of their love of music and each other. What they do is contract musicians all over the world to write and produce custom songs for any occasion. Imagine you're getting married and you want the DJ to "play your song." Now, you can. They'll make it any genre and mood you want. Songs are written for 30 seconds, one minute, two minutes or the full on three minutes.
They claim to have produced over 10,000 songs, so the business is popular. Anyone with a couple of hundred dollars can have their very own song. Once it's produced, they put it on a special webpage. They can also send it to you on a flash drive. People produce songs for all sorts of reasons: birthdays, weddings, engagements, even as jokes. There's one guy on the site who produced a song to goof on his friend who threw up on his fiancé during their first date!
Their website is very interactive. In addition to the customer interface where you enter information about your custom song, There are a ton of song samples from all their different artists. It seems like this is a niche business. They likely want a Shark's help growing their digital marketing.
My Take on Custom Songs
I think this is a fun idea and a cool business. When one of my daughters was 5 or 6, her grandparents ordered her a custom song (it came on a cassette tape). It was so poorly produced, it was laughable. It was a very nice song with a man and a woman singing. The chorus was "It's a special day for Shelby, it's a special day for Shelby, today's your special day." The only problem was when they said "Shelby," the musicians were cut and the word "Shelby" was just abruptly spoken by a man's voice, and he didn't even sound like the guy singing the song! We still joke about it to this day.
That said, I think there is a market for this. People like more experiential things than objects as gifts and this fits the bill. I may even get one for Shelby! I'm in.
Will Sharks Sing Along?
I'm predicting the couple will have songs about each Shark as part of their pitch. It could be very interesting and funny. I see two potential objections. If they don't have a grip on their customer acquisition costs they're done. The other problem is it's not proprietary, there are several other similar services out there (although the producers of "A Special Day for Shelby" are probably long gone). The Sharks don't generally go for non proprietary businesses.
I don't see any of the Sharks bidding on this. Their only hope is Mr. Wonderful. If he thinks he can market it to his wedding mailing list (the Something Wonderful Platform), he'll bid, but it will be a very Sharky offer. My gut tells me they don't get a deal.