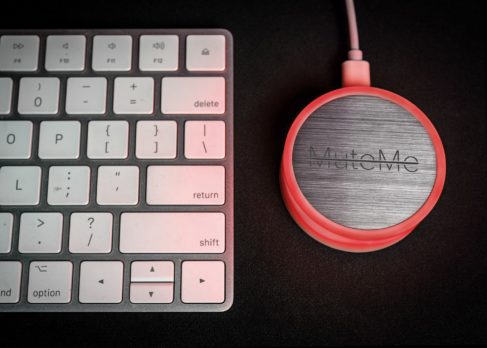 The Mute Me team is a study in speed to market. In just ten months they went from concept to shipped product. Part of it was they were solving a big problem brought on by the Covid-19 pandemic: conducting business meetings at home via the internet. Parents, including the  Mute Me team's parents, often had screaming or otherwise noisy kids in the background. In order to mute their online meeting, it would take 5-10 seconds to click the mute, resulting in unprofessional interruptions.
The other reason they got to market quickly is the founders Parm Dhoot, Tye Davis and three others, including Parm's wife, all have strong, complimentary business skills. Tye, in particular, has a strong digital market background. All of these things allowed them to move quickly. They went from an idea to shipped product with the help of two crowdfunding campaigns on IndieGoGo and Kickstarter that raised $443,831. How they were able to manufacture it so quickly in these times of supply chain disruption is a mystery and a miracle.
The Mute Me button simply plugs in to the computer and synchs with all popular online meeting programs with their software. When you need to mute yourself from a meeting for whatever reason, simply push the button. It not only mutes you, but lets others in the meeting know you're muted. At only $39, it's an affordable computer accessory. Many companies are buying them for their work at home employees. Even though the Mute Me team is good at speed to market, they'd love to have a Shark on board to really blow things up.
My Take on Mute Me
I've been working at home for ten years. I do some calls and online meetings and when I do, I simply shut the door to my office. My family knows not too interrupt me if the door is closed unless it's an emergency. Since my daughter is at school most of the day and my wife is at work all day, it is a usually a non issue. That said, things changed when the Covid-19 pandemic hit.
My wife set up shop in my office. That lasted about a week and she moved to the lanai. She would get mad if I jumped in the pool while she was working and soon moved inside to the dining room. Our "dining room" is a dining set in one corner of an open kitchen and dining/living room. She would get mad if I made noise going to the fridge. One time she threw a pen at me to get me to be quiet while answering the front door to greet a contractor! We are both glad she's back at the office. I wish we had this invention last year! I'm in.
Will Sharks Push This Button?
Daymond doesn't usually go for technology businesses so I think he goes out. Any of the other four Sharks could bid though. While this is a technology play, it's moderately priced and appeals to the masses. That says "Lori" to me. If she thinks it's a "hero," look for her to bid hard.
As for the other three Sharks, Mark has a big technology background. If he believes in the product and the people, he'll bid. He'll also be impressed by their speed to market. Kevin will like their digital strategy, so he'll likely offer some sort of royalty deal. Peter Jones has owned tech businesses in the past – his first was assembling computers and selling them at age 16 – so he could bring value too. This one could be a real Shark fight.