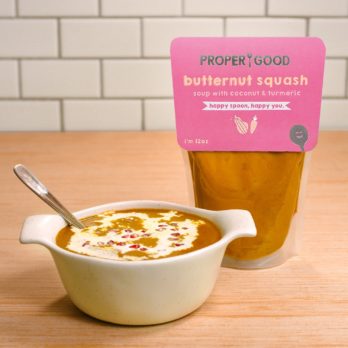 Chris and Jennifer Jane have the skills to bring their Proper Good Soup to the masses. Chris attended Stanford's business school and Jennifer has a background in marketing. Jennifer and Chris also created and founded a successful "clean" condiment business that they scaled nationally. They parted ways with their cofounder of Montana Mex, Eduardo Garcia, in 2019. That's when they went to work developing Proper Good.
Proper Good Soup is a meal that can be prepared in 90 seconds. The siblings wanted to make a convenient, easy to prepare meal that had no preservatives and all natural ingredients. What they came up with was delicious and has rave reviews from customers. As of now, they're only selling direct to consumer, but as I noted above, they know how to get on grocery store shelves already.
The soups, except for the vegan ones, all use bone broth as a base.  Bone broth has many health benefits, combatting inflammation and boosting immunity among them. They look absolutely delicious. At seven or eight bucks a package, they're more than Progresso or other well known brands, but they're cheaper than most prepared foods that serve as a whole meal. You can save 15% if you subscribe. Since they have so much experience and they've already raised venture capital, they're either in the Tank for exposure or they want to accelerate their business with "The Shark Tank Effect."
My Take on Proper Good Soup
This looks like an entertaining pitch. The siblings come out in Victorian costumes and speak with English accents (they were born in England). I was so impressed with the look of the soups and the reviews, I ordered their "best sellers" six pack. Even without preservatives, the soups don't require refrigeration, which is also a plus for me. I'll let you know how they taste!
We dine out a lot and when we dine in, we sometimes get prepared foods and we sometimes get Green Chef. After 22 years of cooking for a family of 7, I try to get out of it as much as possible. If I like this soup, I will probably subscribe. Whether I get it at a local store or order online doesn't matter to me. I am in.
Will Sharks Like This Soup?
Kevin is never a fan of the grocery segment. If he makes an offer, it will be contingent on them selling only direct to consumer. Daymond rarely goes for any kind of food product, so he's probably out.  Lori has had success with food products in the past, but she typically bids high on them because they're a lot of work. Mark partners with a lot of food products too, especially healthy ones, so he could bid too. Don't expect Chris to get rattled if there's a Shark fight though; he's also a former professional poker player and doesn't fold under pressure.
Here's my big prediction. I'm betting Peter Jones does a deal here. Both he and the Janes are British. Chris and Peter have a lot in common as they both started real businesses in their teens. Also, Jones has invested in several successful food businesses on Dragon's Den. Expect a deal with Jones.