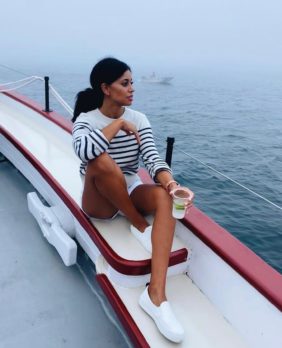 Long Wharf Supply Co founders and siblings Lauren and Michael Lamanga grew up on the water in Newburyport, Massachusetts. This led to leading what Michael calls a "salty life." He was always boating and fishing. Once he became a New York City dweller, he began working with Harlem Lacrosse, an organization that uses lacrosse as a way to intervene positively with underprivileged youth. He says he "lived for the weekends" and he looked for durable clothing. He remembered the fishermen's sweaters that featured thick collars and cuffs and, in 2014 he and Lauren hatched the idea of making Long Wharf Supply into a business.
It wasn't until August, 2020 that they really got the business going with a successful Kickstarter campaign that raised $75,009. Since then, they've seen growth and they'd love to see it explode with a Shark Tank appearance. What makes Long Wharf Supply Co's sweaters so special though is how they're made. Most sweaters are made of wool, but these sweaters are made from recycled plastic, recycled oyster shells and fine wool.
While the company doesn't reveal the exact process, they say they "leverage a patented nanotechnology to create rPET yarn." What ever they do, the sweaters are sturdy and stunning. They create patterns based on traditional fisherman's sweaters and the result is a classic, timeless look. They aren't cheap at around $150 but they will likely last a lifetime.
My Take on Long Wharf Supply Co
My "sweater weather" days ended in 2015 when I moved to Florida. At that time, I got rid of all but 2 sweaters: a tacky Christmas sweater and a traditional fisherman's style sweater I've had since college. I too share Michael's love of the sea (I live a half mile from the beach and go fishing daily) and I like the classic look of my sweater. I never wear it anymore, but I can't bear to part with it.
If I still lived in Massachusetts, I'd ask my wife to get me one for Christmas. Not only do I like the sweaters, I like the company's mission. They donate a portion of their sales to groups that seed oyster beds. Oysters aren't just delicious, they're great filters for our inshore waters. One oyster filters 50 gallons of sea water a day; they're an integral part of a healthy eco system. I also like the fact that, in a small way, they're helping with the plastic pollution problem. I'm in.
Will Sharks Find a Fit?
This one is a tricky call. Peter Jones is a real wild card. I haven't seen an episode of Dragon's Den for over ten years. My British mother in law watches it on BBC and I saw it a couple time when visiting them. At the time, Shark Tank wasn't a "thing," so I didn't pay close attention. Some of his more notable investments on that show are all food businesses.
As for the other Sharks, I don't think Lori will go for it. Neither will Mark – he's not a clothes horse. That leaves Daymond and Kevin. Since they have a digital, direct to consumer strategy, Kevin could bid but they'll need good margins and knowledge of their customer acquisition costs. As for Daynond, he's had success with apparel many times in the past, but he's been burned too. If the Lamangas push his buttons, he could bid too.