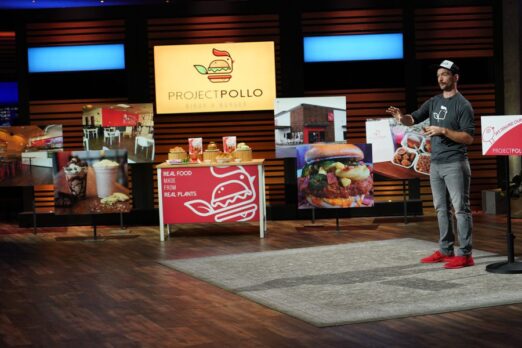 Lucas Bradbury hopes the Sharks bite on Project Pollo, his rapidly growing and successful chain of vegan chicken restaurants, in Shark Tank episode 1313 – the season 13 finale. Bradbury got into vegan food while trying to convince his parents to eat healthier. He decided to test the concept of a vegan "chicken" restaurant during the 2020 Covid-19 pandemic. A friend of his who owned a bar asked if he would be interested in opening a food truck at the bar so it could re-open. Apparently, in Texas, you needed to serve food to be able to re-open in the early stages of reducing lockdown restrictions. The concept was a hit and when things started to get back to normal, he was able to open his first brick and mortar store in a space vacated by another restaurant.
Bradbury is focused not only on food, but sustainability as well. Vegan food products are far more sustainable than meat – an industry that produces a lot of environmental waste. Plant based burgers and chicken are the staples at Project Pollo; they also sell mac n cheese, nachos cookies and vegan milkshakes customers rave about. He likes to locate in "repurposed" spaces that other fast casual chains would overlook and all the packaging is compostable; even the water comes in a box. His people are important too – he pays twice the minimum wage and provides health benefits and paid vacation to all employees. As for his customers, he says 20% are vegan and the rest are "plant curious."
The concept is a big hit. He went from that test food truck to twelve locations – all in Texas – in just two years. There are plans to open four more locations in 2022 and his goal is to have 100 locations by the end of 2024. Bradbury is on a mission to make plant based foods more accessible to the masses. He believes plant based protein is the future and he wants to be a leader in the space. With the success he's already had, there's not doubt he'll get there. A Shark could help him get there faster.
Company Information
Video

Posts about Project Pollo on Shark Tank Blog
Project Pollo Shark Tank Recap
Lucas enters the Shark Tank saying "we demand change" and says he made Project Pollo to make plant based foods more accessible. He's seeking $2.5 million for 5% of his company. The Sharks reel at the valuation. The Sharks eat their samples and they like it. Mr. Wonderful says it's the best fake chicken he ever ate. The name was deliberate to get people in the stores.
Lucas describes how he's opened 12 restaurants and he's doing $10 million lifetime. He explained he wanted to go as fast as he possibly could. All in, he has $60,000 in along with credit cards. He went from $10,000 a week to $23,000 a week in his first restaurant in Austin. The company plans to open one location per month. So far, he raised $1.5 million at a $17.5 million valuation. He was able to get great lease rates due to Covid.
He got his start in restaurants as a delivery driver at Pizza Hut where he rose to manager. Then he helped grow another vegan business. Mr. Wonderful is impressed with Lucas but not the valuation; he's out. Mark doesn't think the food is healthy and he doesn't like the valuation; he's out. Kevin Hart thinks he's moving too fast; he's out. Barbara compares them to Tom and Chee who went bankrupt because they grew too quickly; she's out. Lori says she doesn't know what is going to happen with the rapid growth, she's out too.
Project Pollo Shark Tank Update
The Shark Tank Blog constantly provides updates and follow-ups about entrepreneurs who have appeared on the Shark Tank TV show. After airing, Lucas is putting a national expansion into play. As of August, 2022, he's added 5 new stores since the original air date bringing the total to 17. They also added two food trucks. They're planning on doing a roadshow in the fall of 2022 to universities in the northeast. In 2023, it plans on offering franchises in the north east where they don't plan on opening company owned stores. The company plans to offer more franchises in 2023 and will expand beyond its Texas/Las Vegas/Colorado foot print to Nashville, Atlanta, Tampa, and Miami. The Shark Tank Blog will follow-up on Project Pollo & Lucas Bradbury as more details become available.