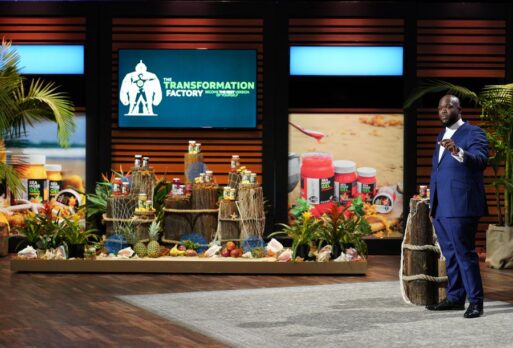 Alexiou Gibson hopes the Sharks like sea moss when he pitches The Transformation Factory, his edible gels made from sea moss, in Shark Tank episode 1313 – the season 13 finale. Gibson, a former NASA intern was at a crossroads in his life. At age 19, he weighed over 500 pounds and his doctor told him he wouldn't live to see thirty. He decided to reinvent himself, lose weight and take charge of his life. Part of that change was eating a healthier diet and he turned to an often overlooked food source: seaweed.
The Transformation Factory sells seaweed moss gel that you can eat. It's made from "Irish Sea Moss," a type of seaweed commonly found along rocky shorelines in the British Isles. Once harvested, it's blended with spring water. If eaten without additional flavors, people say it tastes a bit like raw oysters. Gibson's gels blend in fruit to the gel to make it better tasting. There are studies that show sea moss gels improve digestion, promote fat metabolism and weight loss, and it contains 92 of the 102 trace minerals found in the body. You can even use it as a facemask!
All The Transformation Factory's sea moss is sustainably wild harvested, then brought to a vegan kitchen where it's blended with water and fruits. They sell "raw" sea moss gel and the flavors include: pineapple, soursop, mango, elderberry, dragon fruit and goji berry. They also sell dried sea moss. An eight ounce jar costs $35,99, a sixteen ounce jar costs $47.99 and a thirty two ounce jar costs $57.99. Make sure you eat it right away as it is perishable. A jar should last 2-3 weeks in your fridge. Gibson, who also owns a production company, likely wants a Shark to help him expand into retail. Will a Shark like this seaweed?
Company Information
Video

Posts about The Transformation Factory on Shark Tank Blog
Transformation Factory – Sea Moss Gels
The Transformation Factory Shark Tank Recap
Alexiou enters the Shark Tank seeking $500,000 for 5% of his business. He tells the tale of his weight loss and how he found sea moss. He explains about its nutrients and why he started his business. The Sharks try their samples and they like them. Lori says it's like jelly. The  only sweetener is agave. He says he worked out six hours a day to help lose the weight.
He started the company 11 months ago and has $3.5 million in sales. The Sharks are impressed. He got a lot of interest on Instagram and people wanted the product. When he started running ads, he saw 80% growth. He has a 35% profit margin and made $1.4 million in profit. The profits were put back in the business and he has healthy cash flow. He wants the Sharks' money to invest in making the gels shelf stable. A small jar costs $4.15 to make and sells for $24.99.  All the seaweed needs to be FDA cleared and go through customs.
Kevin Hart says he tried it before. Alexiou has no debt or partners. Mark says 5% doesn't get him excited. Kevin Hart likes the product, he offers $500,000 for 20%. Kevin invites Barbara into the deal and they split it 10% each. Mr. Wonderful offers $500,000 for 30% and says he'll put the full power of Chef Wonderful behind it.
Kevin Hart says he's had his offer on the table for a while. Alexiou flounders about counter offering. Barbara says she and Kevin are worth it. Alexiou says he'll do $800,000 for 20%. Kevin asks Barbara if she'll go to $600,000 for 20% and she says no. Mark says he'll do that deal with Kevin and Barbara is miffed. Alexiou says he'll do the deal with Mark and Kevin Hart.
The Transformation Factory Shark Tank Update
The Shark Tank Blog constantly provides updates and follow-ups about entrepreneurs who have appeared on the Shark Tank TV show. In the immediate aftermath of the show, there is no evidence the deal with Mark and Kevin Hart closed, but the company issued a press release announcing the deal. In the three days following the initial air date, the company did 5 months worth of sales. During the summer of 2022, Gibson ran a summer internship program in Riviera Beach, Florida for middle and high schoolers teaching e-commerce.
By October, 2022, Kevin and Mark closed the deal. As of February, 2023, 2022 sales were estimated to be $4 million.
The Shark Tank Blog will follow-up on The Transformation Factory & Alexiou Gibson as more details become available.