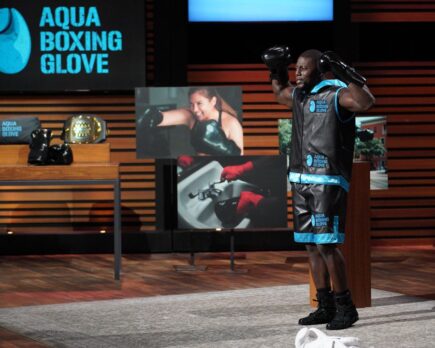 Tony Adeniran hopes to knock out a deal for his Aqua Boxing Glove, a training devices that uses water inside a boxing glove for weight resistance, in Shark Tank episode 1313 – the season 13 finale. Tony is a professional boxer with a 3-0 lifetime record (including one knock out). His last professional fight was November 16, 2019. He also owns a boxing/fitness gym called Black Stallion Boxing Plus in San Antonio, Texas. He wanted to create a portable, effective training tool and the Aqua Boxing Glove was what he came up with.
The glove looks like a boxing glove, but it has a receptacle for adding water. Each glove weighs 1.5 pounds and, when filled with water, can weigh up to 7 pounds. Tony suggests not filling it all the way. When you punch with the glove, the water sloshes around and gives additional resistance. It's similar to a heavy bag workout, without the heavy bag. The gloves aren't designed for heavy impact, but they're built to last: they're made out of the same material boat buoys are made of.
He got things going with a successful Kickstarter campaign that raised $40,706 in September, 2021. Prior to the Kickstarter, he invested in the R&D required to make the product. As of the original air date of this show on May 20, 2022, he has not produced any products for the Kickstarter backers. They are available on his website on a pre-order basis only at this time as well. This is largely due to supply chain issues.
Company Information
Video

Posts about Aqua Boxing Glove on Shark Tank Blog
Aqua Boxing Glove Shark Tank Recap
Tony enters seeking $100,000 for 10% of his business. He starts hitting a heavy bag. He says he lost four years of his boxing career to hand injuries. Next, he demonstrates his new gloves. The Sharks examine their samples. Lori thinks it's heavy. All the gloves are currently for average to larger hands. He wants the Sharks' money to make a smaller size.
He sells them for $199. On Kickstarter, he sold them for $99 but he hasn't delivered them yet. He's been testing them in his boxing gym. They cost $50 to make and he believes he can get the cost down 35%. Kevin Hart says it's more like a fitness product. Tony said he immigrated from Nigeria and his parents didn't like his boxing. When the pandemic hit, it hurt his gym business which is what led him to invent the gloves.
Kevin O'Leary loves his hustle but he doesn't have momentum in the space; he's out. Lori said it's not the right investment; she's out. Mark says it's not going to be able to scale; he's out. Barbara says it's not her cup of tea; she's out. Kevin Hart says he likes to hit something when he boxes; he says he's not the right partner – he's out.
Aqua Boxing Glove Shark Tank Update
The Shark Tank Blog constantly provides updates and follow-ups about entrepreneurs who have appeared on the Shark Tank TV show. In July, 2022, tooling for the gloves by the manufacturer began. In August, 2022, Tony announced the opening of a second Black Stallion Boxing Plus facility in Houston, TX. Tony hopes to have gloves ready to ship sometime in the fall of 2022. He also says he has "white-label licensing deals" in place. The Shark Tank Blog will follow-up on Aqua Boxing Glove & Tony Adeniran as more details become available.