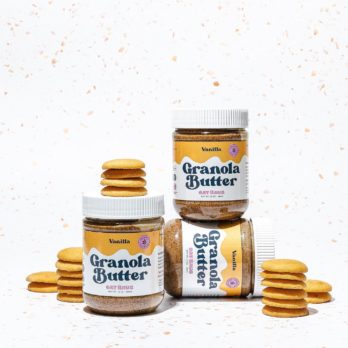 Ari Schaer, Eric Katz and Ali Bonar hope to spread the wealth with a Shark when they pitch Oat Haus, their "granola butter" spreads, in Shark Tank episode 1304. Ali and Eric are co-founders of the company. The idea for Granola butter came to Ali after an intolerance to nuts. She was a nutrition major, but "information overload" from her studies at UC Berkeley caused her to struggle with an eating disorder for nearly 10 years.
The original company was called Kween & Co, which is now the name of the manufacturing facility. She started making granola butter as a side hustle while working at a health care tech company in San Francisco and it quickly took off. She moved operations to Warminster, PA due to high rents in California and rebranded to Oat Haus in July, 2021.
The butters come in 6 flavors: original, vanilla, strawberry shortcake, chocolate, berry and pumpkin spice. One 12 ounce jar coats $13.95 on the company website, less if you buy a four pack and still less if you subscribe. They're made with gluten free oats, flax, olive oil, maple syrup, coconut oil, salt and whatever other flavorings required for the individual flavors. You can find Oat Haus in selected Whole Foods, Thrive Markets, Baron's, Pressed, Harmons, Erewhon, Central Market and Amazon. She likely wants a Shark's help scaling production to expand her grocery store presence. Will the Sharks spread some wealth for this granola butter?
Company Information
Video

Posts about Oat Haus on Shark Tank Blog
Oat Haus Shark Tank Recap
Ari, Eric and Ali enter seeking $375,000 for 5% of their company. They tell their story and tell about their product. The Sharks taste their samples and they like the spreads. Mr. Wonderful thinks it's too drizzly. They tell about themselves: Eric and Ali have been dating for 8 years and Eric and Ari are childhood friends. Ali explains about her eating disorders which included bulimia and anorexia. She eventually got help and when she reintroduced nuts to her diet, her gut couldn't take it, so she started making granola butter.
They launched in March, 2018 and did $156,000 in sales. In 2019, sales were $435,000; in 2020, sales were $1.2 million and they are on track to do $2.5 million for 2021. There are other investors who have given them $600,000. These investors include several people who have had successful exits with food products. Each jar costs $3.25 to make and sells for $9-$12 online. They sell the jars to distributors for $5.50 and ends up on store shelves for $8.99-$11.99.
Mark doesn't see how they'll stand out next to all the other butters, he's out. Barbara doesn't see what she could do for them, she's out. Kevin doesn't like the consistency, he's out. Lori loves the product, but the business isn't for her, she's out. Daniel was turned off by the talk about exits, he's out. NO DEAL
Oat Haus Shark Tank Update
The Shark Tank Blog constantly provides updates and follow-ups about entrepreneurs who have appeared on the Shark Tank TV show. Shark Tank Blog constantly updates on the progress of each business appearing on the show. In an interview with the Philadelphia Business Journal a week after the show, Ali said they had a "steady influx" of orders. Once the dust settled, sales increased 300% in the weeks following the original air date. In November, 2021, they brought actress  Jameela Jamil, from the TV comedy series "The Good Place" and her online community, I Weigh, as an investor. They closed out 2021 with $2.5 million in sales. As of August, 2022, they're on track to do over $3 million in revenue for the year.