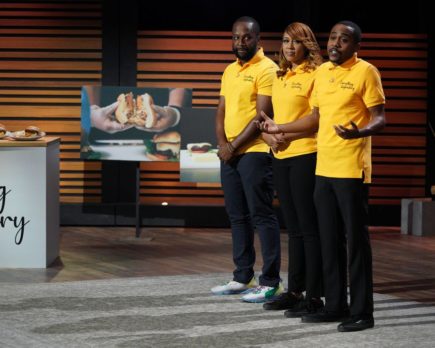 Jumoke Jackson, Danita Gassen and Duane Cheers want a Shark to bite on Everything Legendary, their vegan burger business, in Shark Tank episode 1212. The three friends and Washington DC area natives started the business in 2019. Part of their mission is to promote healthier eating in the black community – a population with an historically unhealthy diet, higher rates of blood pressure, heart disease and obesity.
Like many businesses, they were affected by the Covid-19 pandemic in 2020 and had to reinvent their business model. Originally, they were doing delivery service out of a community commercial kitchen in Washington DC. When Covid hit, they pivoted to offering eCommerce on their website and selling Everything Legendary burgers nationwide.
They make the burgers with a base of hemp protein, coconut oil, potato starch, and beet extract. Then they add paprika, dried herbs, dried citrus and a house made broth to blend things together. The result is a "burger" that is delicious, plant based and better for you and the planet. It'll set you back $16 for four burgers, so they're more expensive than real burgers. There are three flavors: Cheddar, Cayenne Pepper, and Pepper Jack. The trio is looking for a Shark to help them grow their business. Are Sharks in to vegan burgers?
Company Information
Video

Posts about Everything Legendary on Shark Tank Blog
Everything Legendary Vegan Burgers
Everything Legendary Shark Tank Recap
Jumoke, Danita and Duane enter seeking $300,000 for 10% of their business. They hand out samples and the Sharks like what they are eating. Kevin says it's the best plant based burger he's ever had. The Sharks are surprised to learn each burger is only 250 calories, but they do not like the valuation. They tell the Sharks they're operating on word of mouth referrals only and they want help with digital marketing.
The Sharks, generally speaking, don't like the frozen food space and things are looking grim until Mark chimes in. He tells them they should give up on the frozen food space idea. Instead, he says, they should use cloud kitchens and offer local delivery. They would teach cloud kitchen chefs to make the burger in each locality – almost like a form of food licensing. Mark says if they are amenable to that idea, he'll offer $300,000 for 22%. They agree and do the deal.
Everything Legendary Shark Tank Update
The Shark Tank Blog constantly provides updates and follow-ups about entrepreneurs who have appeared on the Shark Tank TV show. The first re-run of this episode in May, 2021 is just two and a half months after the original air date. As of this date, there is no evidence this deal has closed. Mark did tell a Washington Business Journal reporter he was "impressed" with the burgers, but did not give an indication one way or another that the deal closed. Due diligence on Shark Tank deals can take up to a year – I will update this page as new information becomes available.
As of November, 2021, the deal has closed with Mark. Since airing, they've partnered with a co-packer that allows them to produce up to 400,000 burgers a day. The burgers are in 310 Target stores in the Washington D.C. area, Southern California, the Chicago region and New York City. They are in hundreds of other grocery stores too, including Giant Food, Safeway, Acme, Target, Ralphs, and Kings Food Markets across the USA. The company is on track to do $10 million in revenue in 2021. That money still hasn't prompted Jumoke Jackson to pay his ex wife.
This business gets an update segment in episode 1311. I will update this page once the episode airs. In the update, they tell about their three new co-packers and two new distribution centers. Mark praises their hustle and the Legendary team tells about their supermarket placements. They did $1.7 million in sales in just 7 months after appearing on the show. They are predicting they'll reach $28 million in sales in 2022.
In February, 2022, the company did a Series A funding round that raised $6 million. Investors included CircleUp Growth Partners,General Mills' 301 Inc. and previous investor Mark Cuban. The company will use the new funds to grow their retail presence and create new products like vegan boneless wings, sausages and breakfast patties. Their products are currently in 1,500 US retail stores, including Target and Publix. By the summer of 2022, the company says it will be in an additional 5,600 retail locations.