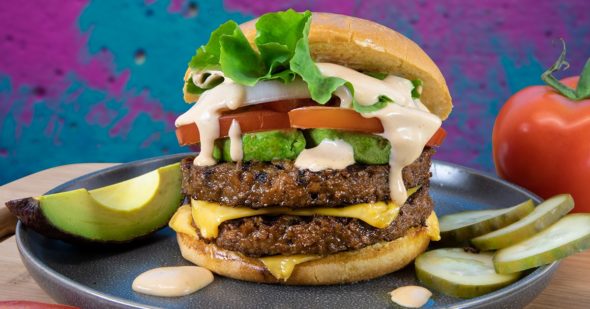 Looking at this picture, you wouldn't think those were vegan burgers stacked up there. They look like real, juicy burgers and that's what Jumoke Jackson, Danita Gassen and Duane Cheers cook up every day at Everything Legendary, their vegan café and now ecommerce vegan burgers purveyor.
They initially opened in Washington, D.C. in 2019 with the idea of promoting healthier eating in the black community. What they found out is their burgers were a hit with everyone! Unfortunately, when the Covid-19  pandemic hit, they had to shut down. They didn't quit though. They offered delivery and set up their website to sell online.
So far, that was a good move for them. They're growing their customer base online and rolling out soon in Safeway, ACME and Giant grocery stores. As with any food product, the Sharks have to enjoy it to invest. They hope Sharks like their three flavors: Cheddar, Cayenne Pepper, and Pepper Jack. If one of them does, the vegan trio could have a new partner.
My Take on Everything Legendary
When Burger King introduced their vegan Impossible Burger, I tried it out of curiosity. If I hadn't known it was plant based, I wouldn't have noticed the difference. I think advances in plant based foods to replace things like burgers are the future, they just need to bring the cost down a bit.
That's the one thing that threw me off about this product: the price. It's $50 for 8 burgers; that's $6.25 apiece. I thought plant based foods should be less expensive than traditional foods because they use less resources – at least that's the argument I always hear. I'll give em a try once out of curiosity.
Do Sharks Eat Vegan Burgers?
Two Sharks are Vegan: Lori and Mark and both of them have vegan food products in their respective portfolios. I'd expect them to bid if they like the product. I'm not sure about the other Sharks.
Whenever black entrepreneurs appear on the show, I am always tempted to predict Daymond will make a bid. But the business has to be viable for him. He has some food products in his portfolio, but not nearly as many as Lori and Mark.