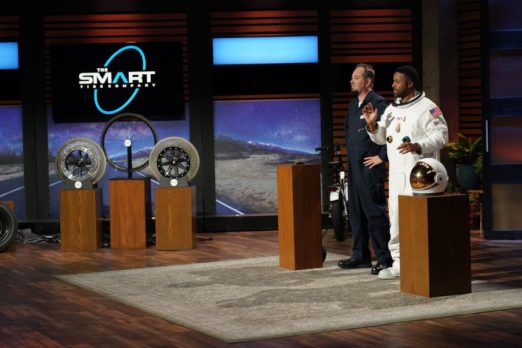 Brian Yennie and Earl Cole seek an investment in The Smart Tire Company, their disruptive tire business that uses NASA technology, in Shark Tank episode 1312. The pair are both serial entrepreneurs who also co-founded Fanstreme, an "interactive sports technology company." As for the tires, they're made of nitinol plus (nickel & titanium) which is elastic like rubber, but wear and puncture resistant. They claim they're "flat free" and the goal is to make the tires to reduce waste from discarded tires.
Pneumatic tires were first patented in 1847 but weren't produced until 1888. Initially they were used for bicycles and, eventually, they were used on automobiles. Discarded tires account for 30% of plastic waste and they represent a $250 Billion industry. The Smart Tire Company guys hope to eliminate the waste with their tires which are inspired by the tires on NASA's moon rovers.
The company recently raised $1,558,762 on WeFunder and they are actively seeking more investors to bring their product to market. While tires for cars may be a few years off, they plan to release METL, their bike tires that use the same technology as the automobile tires, in 2022. The company has a wait list. The METL tires are coated with a poly-rubber material and can stretch like rubber, but they go back to their original shape if bent or stretched. They will literally be the last tires you buy for your bike. The company is pre-revenue, so they likely want a Shark to help them launch their products officially. Will this tire company gain traction with the Sharks?
Company Information
Video

Posts about The Smart Tire Company on Shark Tank Blog
Smart Tire Company – Space Age Tires
The Smart Tire Company Shark Tank Recap
Brian and Earl ride in on scooters with their tires on them. They ask the Sharks to imagine the waste related with tires while not saying what it is. They unveil their tires and tell the story of the tires. They're seeking $500,000 for 2.5% equity. Brian tell about the materials and introduces the METL tire. They have an exclusive license from NASA. They have a patent pending on rubber integration. NASA is actually helping them commercialize it.
They raised $1.3 million in equity crowdfunding. Mark wants to know what they're doing to execute. They talk about their respective backgrounds. The business has a 5000 square foot lab and they are hiring to make the bicycle tire. No other company has the rubber integration IP so they can license to big tire companies. A bike tire costs $150-$200 per tire. They plan to sell them for $2500-$3000. The Sharks don't like the high price.
Kevin Hart asks what the car tires cost: $700-$800 per tire. Lori likes the concept, but it's too early; she's out. Mark says he can't blame them for partnering with NASA but he hasn't heard how they plan to execute; he's out. Mr. Wonderful says the strategy should license it to big manufacturers; he's out. Kevin Hart agrees with Mr. Wonderful; he's out. Barbara thought the pitch was confusing; she's out.
The Smart Tire Company Shark Tank Update
The Shark Tank Blog constantly provides updates and follow-ups about entrepreneurs who have appeared on the Shark Tank TV show. The first re-run of this episode comes on June 11, 2022, less than  six months after the original air date. Since then, the company raised $80,917 in equity crowdfunding on StartEngine. The products are not available to the public at this time.
The Shark Tank Blog will follow-up on The Smart Tire Company & Brian Yennie and Earl Cole as more details become available.