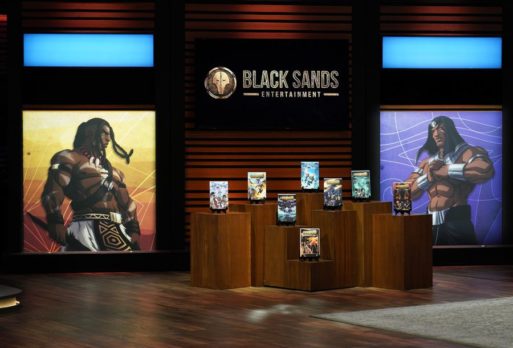 Geiszel Godoy, Manuel Godoy and Teunis De Raat seek a Shark to fund Black Sands Entertainment, their comic book empire that features historical fantasy tales about people of color, in Shark Tank episode 1312. Geiszel and Manuel are married army veterans. She has a background in fashion design and he has a background as an army administrator. De Raat is a 25 year animation industry veteran who worked at Disney, Pixar and others. Together, they created the largest black owned publishing house in the USA.
Manuel started the company to provide an alternative to the "agenda-driven media coverage of the black experience." Black Sands publishes comics, graphic novels, chapter books, DVDs, and picture books. The main storyline is called The Second Kingdom; it's about an ancient African Kingdom and the young boy who will rule it in the future. The business has grown rapidly since starting in 2016 with over 60,000m units sold and growing. They're seeking to create a major brand that will have its properties on the Nickelodeons of the world.
Initially, they raised funds on Kickstarter to fuel growth. In four separate campaigns, they raised $102,854. They also raised $1,277,081 on WeFunder in December, 2020. That money was used to create an app where people can access the content via smartphone or tablet. All titles are available on their website and Amazon. They're serious about growing the brand and would like a Shark's help. Will a Shark brave these sands?
Company Information
Video

Posts about Black Sands Entertainment on Shark Tank Blog
Black Sands Entertainment – Cultural Comics
Black Sands Entertainment Shark Tank Recap
Geiszel, Manuel and Teunis enter the Shark Tank seeking $500,000 for 5% of their company. They explain how they created their publishing company. They want to make the comics into an animated series. They show a trailer of an animated film. Kevin Hart asks what they've put into the pilot: $250,000. Teunis tells his background of 25 years in the animation industry –  he believes in the product. Their primary sales are from physical books, to date they sold 120,000 at $20 retail. They cost $2 to make and wholesale for $8.
In 2017 they did $40,000 in sale. 2018 had $220,000, 2020 had $600,000 and 2021 has $800,000 year to date (they taped in July, 2021). They all give their backgrounds to the Sharks. They knew nothing about comics but used their military background to execute. They have $300,000 in the bank. They want to find as a distributor. They want the money to expand the number of issues they publish a year. To do this they need to hire artists and writers.
Kevin Hart gives them his reasons for why they should go with him. Mark asks to join Kevin in an offer. Kevin says he has writers and artists. Mark says he'll do the technology. They offer $500,000 for 30%. After a break, they counter with $500,000 for 10% plus a dollar per book. Mark says the money is in creating a brand. Manuel raised $1 million at the valuation they originally asked for. Kevin will provide the resources. Manuel does the deal.
Black Sands Entertainment Shark Tank Update
The Shark Tank Blog constantly provides updates and follow-ups about entrepreneurs who have appeared on the Shark Tank TV show. The first re-run of this episode is June 11, 2022, les than six months after the original air date. There is no evidence the deal has closed yet.
As of October, 2022, Mark and Kevin have closed the deal. Lifetime sales are $2 million and 2021 sales were $1.2 million. Hart plans on growing the franchise to include a television series and a feature film. The company is also considering going public, but no formal plans have been made.
The Shark Tank Blog will follow-up on Black Sands Entertainment & Geiszel Godoy, Manuel Godoy and Teunis De Raat as more details become available.