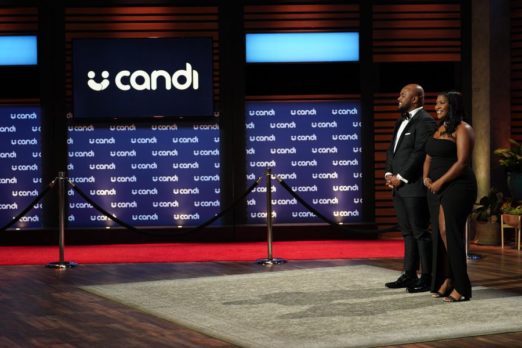 Keithan and Quiante Hendrick seek an investment in Candi, their social media platform that conects people with influencers and celebrities, in Shark Tank episode 1312. They started the business in December 2019 – right before the Covid-19 pandemic hit. The platform lets celebrities and influencers connect with fans one on one. You simply go to the website, pick a celebrity, and the Candi staff will coordinate a Zoom call.
Each call is typically five minutes, but can be more if you spend more. There are dozens of celebrities and influencers on the platform from the areas of sports, entrepreneurship, acting, chefs and more. People like Sisqo, Tori Spelling, Rod Woodson, Chaka Khan and many more are on the platform. Calls range from $30-$100 to over $400 depending on the celebrity's "star power." I assume the celebrities make the lion's share of the money with Candi taking an administrative fee.
As of now, the connections are done on Zoom. Candi doesn't have an app right now and this platform screams for one. Now, everything is done on the website. It functions well on a smartphone, but an app would make it more polished. Will a Shark want to help this fledgling social network?
Company Information
Video

Posts about Candi on Shark Tank Blog
Candi Shark Tank Recap
Keithan and Quiante enter the Shark Tank seeking $500,000 for 15% equity. They explain their business and how it works. Mya appears on a screen live to demonstrate the app. They launched in April, 2020 and made $100,000. The celebrity keeps 75% of their rate. They have celebrities as low as $10. Chaka Khan is the highest at $400. Celebrities tout the platform on their own social media for marketing.
After a brief chat about their background. Keithan reveals his mother abandoned him. He adopted his 14 and 15 year old brothers. Keithan is a mergers and acquisitions attorney. They built the company with no experience. They want the money to build an app, hire phone salespeople and increase their marketing.
Kevin says this has been done before and they fall apart because the talent fizzles out. They want a Shark to help pour gasoline on it. Kevin Hart thinks it's too early and he doesn't like the valuation; he's out. Mark says they asked for too much money; he's out. Mr. Wonderful thinks they asked too much too; he's  out. Lori and Barbara agree with the other Sharks on the valuation and they go out too.
Candi Shark Tank Update
The Shark Tank Blog constantly provides updates and follow-ups about entrepreneurs who have appeared on the Shark Tank TV show. The first re-run of this episode comes on June 11, 2022, less than  six months after the original air date. Since then, Keithan has added a feature that lets business owners connect with influencers to promotr their businesses. The company has also added more influencers/celebrities, most notably Stormy Daniels. The Shark Tank Blog will follow-up on Candi & Keithan and Quiante Hendrick as more details become available.