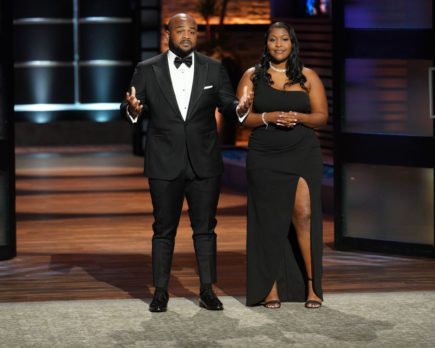 Entrepreneurial couple Keithan and Quiante Hendrick pitch Meet Candi, their platform that lets fans live chat with celebrities, in Shark Tank episode 1312. They got the idea for the platform from an app called Cameo where celebrities create personalized videos for fans. They thought if videos would sell, live chats would too. With no entertainment industry connections or experience, they set out to get celebrities and influencers on their platform.
The first celebrity they landed was Grammy Award-winning singer, songwriter and actress, Mýa. Since then, they added dozens of celebrities and influencers from sports stars to recording artists, actors, celebrity chefs, entrepreneurs and more. The celebrities set their rate for a five minute Zoom call. Prices range from as low as $20 to well over $400. Customers sign up and pay for the call and Meet Candi sets up the Zoom call.
Apparently, the concept took off during the Covid-19 pandemic. People were looking for ways to cheer up and talking with a favorite celebrity did the trick for many. Keithan said people used their chats as a "therapeutic experience." Their list of celebrities and influencers keeps growing. The couple is hoping a Shark can make it grow even more.
My Take on Meet Candi
On the surface, this seems like a cool idea. I might try it if someone I was a big fan of were on the platform. So far, there isn't anyone that would get me to drop money on a five minute conversation, but it could happen. There are a couple of YouTubers my daughter is fans of on the platform, so I may get her a chat for her birthday.
I wonder why celebrities would take the time to do this. I'm sure most of them don't need the money. There are about 280 celebrities and influencers on the platform as of the Monday before the show airs. It will be interesting to see how that number grows after the air date. Maybe even some Sharks will sign up!
Will Sharks Eat This Candi?
I'm not sure about this one. They could be "too early" for the Sharks with less than 300 celebrities on the platform. There aren't any "huge" names either, but there are certainly some very accomplished people on there. Chaka Khan and Andre Reed are two names I recognize. The real determining factor will be sales, not the number or caliber of celebrities.
I assume Candi takes a percentage of the sale of each call, so volume of business will be important too. This is a tech play at heart, so look for Sharks that bid on those types of companies to make bids. Kevin Hart is a wild card, but I don't think this business does a deal. I do think they'll grow their celebrity stable though and perhaps even get some of the Sharks on the platform.