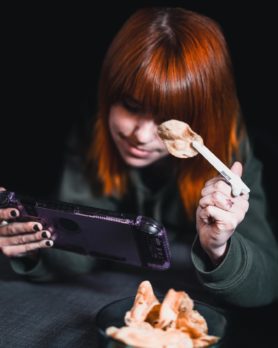 Kevin Choi and Evan Cho created Snactiv, their finger chopsticks, to keep their hands clean while snacking and working or gaming. Computers, gaming consoles and things like potato chips don't go well together. When your hands get greasy, you can't touch the keyboard or console without wiping them off well. This caused the guys to invent a new category of utensil: finger chopsticks. When you put them between your fore and middle fingers, they act as an extension of your fingers without interfering with your keyboarding.
The guys, who are designers and engineers that worked with some big companies, caught the Shark Tank's eye with their successful Kickstarter campaign that raised $41,700 back in April, 2021. It seems the world was ready for this invention. Unfortunately, so were the knock-off artists. This has become a big problem with Kickstarter. Unscrupulous manufacturers will see a good idea on Kickstarter and copy it, often bringing cheap products to market faster than the original Kickstarter project. There are dozens of knock off products on Amazon as of the Monday before the original air date.
One pair will set you back $15. For an extra $3 you can get a carrying case. Right now, they come in white or black. They likely want a Shark to help them get to market quickly. The product, as far as I know, is not patented, so curtailing knock-offs could be tricky. If it is patented, a Shark could help defend their IP rights. Will a Shark want to eat with these finger chopsticks?
My Take on Finger Chopsticks
I think this is a clever idea. I work on the computer every day, so I see how Snactiv would come in handy. Meals and snacks at my desk are a daily occurrence. Fifteen bucks isn't going to break the bank, so I may buy a pair in "dark mode" (black).
Will Sharks Want to "Snactivate" a Deal?
This is a pitch that could lead to the "it's a product, not a company" type of objection. That said, they may field an offer or two. I can't speak to Kevin Hart's leanings as he's not a known Shark. As for the others, I see two possible bidders. I think Mark will have the aforementioned objection. Barbara probably won't bid either. That leaves Mr. Wonderful and Lori.
This is priced in Lori's wheelhouse. If she thinks it's a hero, she'll bid. I think it's something she could blow up quickly. Mr. Wonderful will likely bid some sort of royalty deal and put it into his stable of wedding gifts and gadgets. Those are the two scenarios I see playing out.