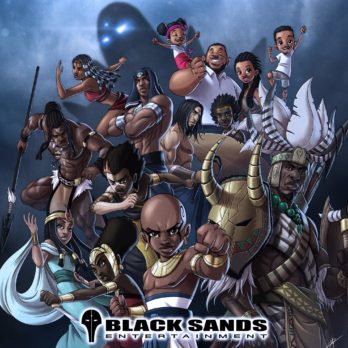 Manuel Godoy created Black Sands Entertainment to bot entertain and serve a cultural purpose. In his own words: "our business specializes in developing comics, novels, and books focusing on history before slavery for African-American audiences." He feels the entertainment industry has hijacked the African American experience and its narrative is not indicative of what African American consumers want. He aims to change that by becoming the number one black publishing house in the world (they already are) and by employing black and brown artists.
For the most part, he accomplished those goals. Black Sands employs artists of color, some of whom have worked with industry giants like Disney and Pixar. The goal is to create a global brand and start pitching projects to large entertainment industry companies.
The stories themselves are a mixture of fantasy and Black History. The Black Sands universe exists in a mythical, ancient African Kingdom called the second kingdom. The stories are familiar plot lines: good vs. evil, the struggle for power, love and more. What's different is the setting and the focus on African American culture. While they are entertaining for anyone who enjoys comics and graphic novels, they're aimed at the black consumer. He wants a Shark's help blowing up the brand and expanding its universe. Will a Shark want to walk in these sands?
My Take on Black Sands Entertainment
I love comics. I still have many of the Spiderman and Fantastic Four comics I bought as a child. My prized posession is my original Amazing Tales that Spiderman first appeared in. I still pick one up every once in a while as a lark for some light reading. I liked Spiderman because I could identify with Peter Parker – a brainy kid who was a bit of a social misfit. That's why Spiderman is a huge success: kids can identify with Peter's real life struggles and fantasize about being Spiderman.
This is what Manuel wants to do for black kids. He wants to give them super heroes that look like them. The mainstream comic book world is largely white, with the exception of Marvel's Black Panther. The movie version of that comic was one of the top twenty box office money makers of all time grossing over $1.3 billion (and counting). It's clear the black community is hungry for more of that type of entertainment. I'm in.
Will Sharks Get in the Sandbox?
Black Sands already has some success and over 70,000 books sold. The Sharks will like that. While a good valuation will be important, I think this is one of those pitches that's "in the bag." There will likely be some bidding, but I predict Kevin Hart will do a deal with Manuel and company.
Here's why: Kevin Hart has a production company called HartBeat Productions. The company has a deal with Nickelodeon to produce scripted content for the network. Manuel has publicly stated he wants to pitch his content to Nickelodeon. It's a win-win situation (if it's not already a deal in the works). Manuel gets his product out in the mainstream and Hartbeat Productions gets a ton of ready made content for Nickelodeon. There may be offers from other Sharks, but I predict a deal with Kevin Hart.