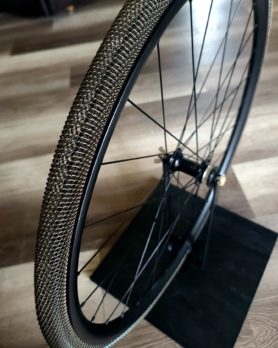 Brian Yennie and Earl Cole introduce the Sharks to their Smart Tire Company, a pre-revenue business that makes tires that need no air, won't puncture and will last far longer than regular rubber tires. The "Smart" in Smart Tire stands for "Shape Memory Alloy Radial Technology." The secret is NASA technology. They were inspired by the tires on the lunar rover and developed by NASA's Glenn Research Center and Goodyear. Made from shape memory alloys, the tires withstand shape deformation and require no inner frame. This makes them lighter and very long lasting.
The company says it wants to be the "Tesla of the tire industry." While they aren't ready to roll out tires for automobiles yet, they are ready to launch METL, their bicycle tire that uses the same material. The plan is to start selling those tires and selling the vehicle tires to specialty markets. Within the next five years, they plan on disrupting the $250 BILLION tire industry.
One of the best things about these tires is their sustainability. Tire waste accounts for 13% of plastic waste. With longer lasting tires that uses far less rubber, the amount of waste from tires will be vastly reduced. There is some rubber in the smart tires. They're made of nickel & titanium with a rubber coating. METL should be launching sometime in 2022. They'd like a Shark's help getting things moving faster.
My Take on The Smart Tire Company
I think these are the coolest tires I ever saw. The METL tires for bikes look amazing, in fact I'm on the waiting list when they become available. I still have my Schwinn mountain bike I bought in 1987. I take good care of it! Since that time I owned over 20 different cars, but I still have that bike! In all those years, I must have replaced dozens (if not hundreds) of bike tires. Having a bike tire that will last virtually forever would be awesome. I also like that they reduce waste. They look cool too. I am IN.
Will Sharks Inflate a Deal?
This will be a tricky negotiation since the company is pre-revenue. They also have other investors. The upside is huge though. If these get made for conventional automobiles, they will disrupt the tire industry. If they do, there are billions of dollars to be made. This makes it a deal for only one Shark: Mark.
Mark is the only Shark who is a billionaire. It takes that kind of money to bring a company like this forward. Mark is the only Shark with those kind of resources. Barbara Corcoran once told me "Mark buys businesses sometimes just to keep his 'people' busy." While The Smart Tire Company isn't one of those types of businesses, he has the organization in place that could accelerate the business forward. I think Mark (maybe teamed with another Shark) does a deal or there is no deal at all.