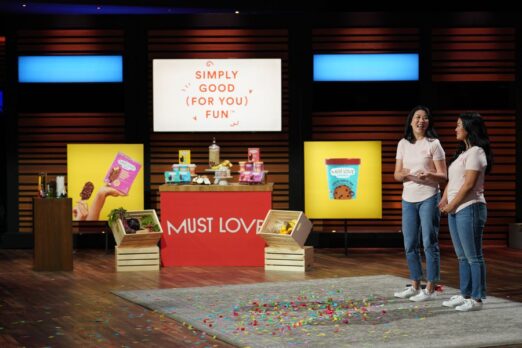 Mollie Cha and Hannah Hong created Must Love Ice cream because they both developed lactose intolerance in their twenties. To be fair, it's not really ice cream, they call it "nice cream." It's made from pureed bananas. They started making it in 2016 and the first few batches were not that good. The bananas froze into bricks in the freezer. Once they achieved the proper consistency, Hannah quit her job and started the business. Mollie joined her several months later. Together, they'll pitch the Sharks in episode 1309.
They make Must Love Ice Cream with all plant-based ingredients. All their nice cream is sweetened with dates and coconut, and made either with an oat milk or banana base. They're completely plant based. The flavors are Banilla, Choco Choco Chip, Cashew Cookie and Double Chocolate Chip. A serving of Must Love has 150 calories, about 25 less calories than "real" ice cream. Their ice cream bars only have 120 calories compared to 160 in an Igloo Bar.
They sell direct on their website and in grocery stores in the south eastern USA. Pints and a box of four bars cost $12. They have a discount on the website if you order a subscription. Both women have their MBA's and have backgrounds in finance. Hannah has some experience with branding too from when she worked for Nestle. They have the business background and have grown steadily since launching. They likely want a Shark to help accelerate growth. Do Sharks like nice cream?
My Take on Must Love Ice Cream
I am gonna try this stuff. One of the stores it's available at is Winn Dixie which is a store I shop at. I've had semi frozen banana puree with mixings before – it's quite good, so I'll give this a go and let y'all know how it is. I'm also impressed by how quickly they grew their brand. Getting into the freezer space in supermarkets is one of the toughest sells in that space. They were probably able to do it because it is a completely unique product. I am in.
Will Sharks Bite On Nice Cream?
This company has sales so there should be some interest. Mr. Wonderful won't make an offer – he hates the frozen food business. Likewise for Daymond. Peter Jones has invested in food businesses on Dragon's Den, so he could make an offer. Mark and Lori have a history of investing in healthy foods as well so they may bid too. I predict at least one offer.