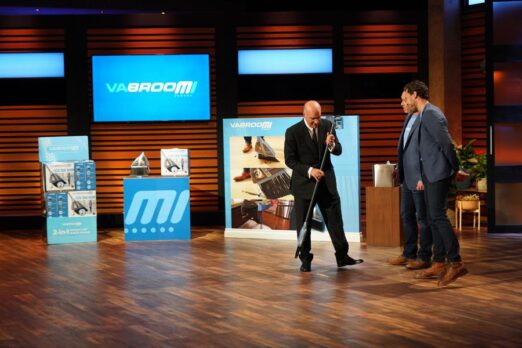 Trevor Lambert and John Vadnais hope to clean up in the Shark Tank with Va-Broom, their broom with a mini vacuum attachment, in Shark Tank episode 1309. The guys have a lot of experience bringing products to market. Trevor and John are principles at Enhanced Innovations, a company that is "a manufacturer and distributor of innovative, user-centered product solutions." That means they design and market cool products. To date, they've worked with clients to get their products into stores like Petco, Walmart, Target, Bed Bath and Beyond, Walgreens and more.
Now, they're bringing their own product to market. They got it going with Kickstarter and IndieGoGo campaigns that raised over $150,000 back in 2019. They're hoping a Shark can help them some more when they pitch the product in episode 1309.
Essentially, Vabroom eliminates the need for a dust pan. You simply sweep your dirt and debris into a pile and apply pressure to the attached vacuum arm. That turns on the vacuum which sucks the dirt into a cannister. No more dust pan lines! It's powered by a long lived, rechargeable lithium battery. At $9, it's more expensive than a broom, but cheaper than a vacuum. They claim it can replace a vacuum for homes with solid surface flooring. Hopefully, a Shark will clean up and invest in this new household gadget.
My Take on Va-Broom
We have no carpet in our house except for a small area rug in the living room. Our floors are either terrazzo or tile. When we clean up, we usually sweep or use the Swiffer, then we vacuum up the leftover debris. The Va-Broom would make sense for us.
What I don't get is why these guys are in the Tank at all. They literally have a business that makes products and gets them on big retail store shelves. I'm guessing there's a bit of a publicity stunt here. They don't really need a Shark, they could do it on their own.
Will Sharks Make a Clean Sweep and Invest?
I'm curious as to whether Mark or Daymond will call them out on only being there for the publicity. They're the two Sharks that most frequently do that. I don't expect offers from either of them. As for Peter Jones, he's a wild card on this one. That leaves Lori and Mr. Wonderful.
I'm sure the margins are solid on this product so I fully expect a royalty offer from Kevin. As for Lori, thiss kind of thing is in her wheelhouse and it would make a good QVC product. I expect a bid from her too. I do not expect they do a deal though. If they do, it will never close. This pitch is a commercial for Va-Broom.