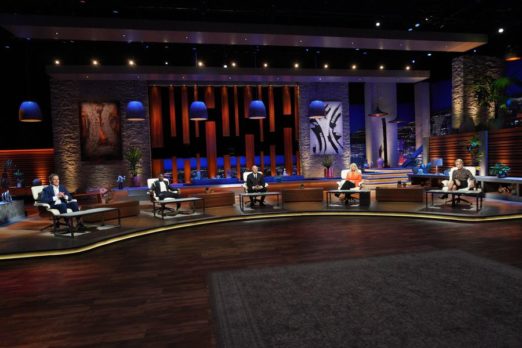 Comedian and actor Kevin Hart joins Mark, Barbara, Kevin and Lori on the panel in episode 1312. This episode marks the first time there were two Sharks named "Kevin" on the panel since season two. Together, they'll evaluate 4 new businesses seeking cash from the wealthy investors. Will the Sharks see any value in the opportunities presented to them tonight?
First up are Kevin Choi and Evan Cho who seek an investment in Snactiv, their "finger chopsticks" that let you snack without getting your hands dirty. Brian Yennie and Earl Cole pitch The Smart Tire Company, their company that makes puncture and flat proof tires made from a titanium alloy used by NASA on their moon rovers. Keithan and Quiante Hendrick seek to connect with a Shark for Candi, their social media platform that connects people with their favorite celebrities and influencers. Geiszel Godoy, Manuel Godoy and Teunis De Raat seek to build a major brand out of Black Sands Entertainment, a comic and graphic novel publishing house that focuses on ancient Black History themes. Which business hooks a Shark tonight?
The update segment will feature a look at Kevin Hart's Background.
Entrepreneurs
---
Update Segment – Kevin Hart Background Segment
There are 26  Shark Tank Episodes for Season 13. This season features the six original Sharks: Mark, Daymond Kevin, Lori, Barbara and Robert. Four new Guest Sharks will join the panel in season 13. They are: Kevin Hart, Actor, Investor and Entrepreneur; Emma Grede, CEO and Co-Founder of Good American and Founding Partner of SKIMS; Peter Jones, Dragon on BBC's Dragon's Den; and Nirav Tolia, Co-Founder of Nextdoor. Also Guest Shark Daniel Lubetzky returns. Casting is currently closed, but it never hurts to get a head start on season fourteen! If you would like to appear on the show, check out our Auditions and Casting information.
Episode 1312 – The Shark Investors and Entrepreneurs
The Shark Tank Episode 1312 entrepreneurs will make their best pitch to the panel of five Shark investors who will use their own money if they choose to invest. The Shark Investors negotiate on the spot without any previous information, which differs from typical negotiations between venture capital investors and entrepreneurial start-ups.
Companies pitching the Shark Investors must go through a rigorous due diligence process before an on-air deal is completed. Shark Tank Blog follow ups help you keep track of the companies that end up successful and the ones that don't complete their deal.
Thank you for reading SharkTankBlog, the number one site for Entrepreneurs, Investors and Fans. Our content updates multiple times day, giving you the latest information on Episode 1312, Season 13, and all other seasons and episodes.
Episode 1312 Press Release
Shark Tank: Episode 1312 (1/7)
"1312" – Kevin Hart—actor, investor and entrepreneur—brings his unique perspective and desire to inspire the country's sharpest entrepreneurs in an all-new episode. First into the Tank are entrepreneurs from Los Angeles, California, who pitch their fun tool that takes snacking to the next level. Entrepreneurs from Los Angeles, California, introduce their out-of-this-world product made from space-age materials that they hope will replace a goods patented before the lightbulb; while entrepreneurs from Flossmoor, Illinois, present their online social network that allows fans to have a real connection with their favorite celebrities and influencers. Entrepreneurs from Middletown, Delaware, and Vancouver, British Columbia, hope their independent Black content book publishing company will help change the way people learn about African history on an all-new episode of "Shark Tank," FRIDAY, JAN. 7 (8:00-9:01 p.m. EST), on ABC. (TV-PG) Watch episodes on demand and on Hulu the day following the premiere.
The Sharks in this episode are Mark Cuban, Barbara Corcoran, Kevin O'Leary, Lori Greiner and guest Shark Kevin Hart.