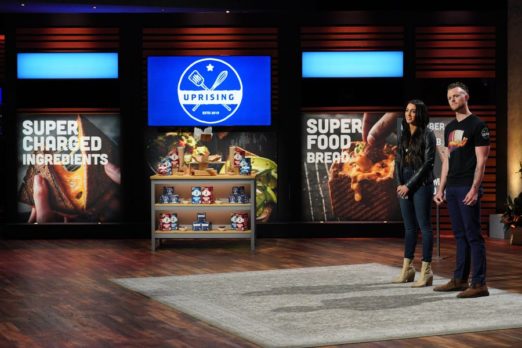 Kristen and William Schumacher want a Shark to take a bite out of Uprising, their low carb and gluten free bread, in Shark Tank episode 1301. The couple wanted to make tasty, healthy bread that was gluten free and low in carbohydrates. It took them 8 months to find the right combination of ingredients, temperature and bread pan shape to come up with a finished product. When they kept selling out a framer's markets, they knew they were on to something.
Besides being a healthy bread, it's shaped like a cube. You also  have to slice it yourself. A slice is 2 net carbs and 160 calories, which makes it a good keto friendly bread. There are no preservatives, but they claim the bread will last 6 months in the freezer, a month in the refrigerator and a week if left out. There are 8 ingredients: water, almond flour, egg whites, psyllium husk, flaxseed, apple cider vinegar, baking powder, and salt. Reviews of the bread are very positive.
The Uprising couple is an unlikely duo for bakers. William has a background in banking and brand management for cosmetics companies. Kristen has experience in marketing and communications. They truly started the business out of their love for bread. They picked the right business partners too: Blue Oven Bakery founders Mark and Sara Frommeyer.
While people like the bread, some are turned off by the cost: $12 a cube. Each cube yields about 8 slices, which scrubs up to $1.50 a slice. While comparable keto based breads can be more expensive, there are many less expensive alternatives. If you tend to keep away from bread because of gluten and carbs, it could be a good treat. They also recently introduced Superfood Freedom Chips. The chips have similar ingredients, but add egg whites, baking powder, olive oil and flavorings like garlic, onion and sea salt. They currently only sell online. This couple likely wants a Sharks help growing their production capacity and distribution channels. Will a Shark want a slice of Uprising?
Company Information
Video

Posts about Uprising on Shark Tank Blog
Uprising Food – Low Net Carb Bread
Uprising Shark Tank Recap
Kristen and William enter the Tank seeking $500,000 for 3% of their business. The Sharks chuckle at the high valuation. They tell their story and pitch the bread. The Sharks get samples of grilled cheese, French Toast and a plain piece of bread. They all like the bread, but they don't like the $12 price tag. Emma jokes that she wants to find a $5 bill in the package.
The Schmachers say they want to re-engineer industrialized bread because processed foods are making people sick. They talk about William's dad who's life was saved by a good diet. 2019 sales were $85,000 and 2020 sales were just under $1 million. In the first half of 2021, they have $2.1 million in sales. To date they have a little under $1 million in losses. Each cube costs $5 to make and they clear $3.60 after shipping. Even after doing almost $5 million in sales in 2021, they still won't be profitable. Kristen says their focus is on top line sales.
Barbara says she wouldn't be able to sleep at night if she invested, she's out. Lori likes the bread, but not the valuation, she's out. Kevin says they'd need to get to a half a billion for him to get his money back, he's out. Emma doesn't think they have a clear path to profitability, she's out. Mark wants to know why they can't be more profitable. When they start in with a lot of marketing jargon, he goes out.
Uprising Shark Tank Update
The Shark Tank Blog constantly provides updates and follow-ups about entrepreneurs who have appeared on the Shark Tank TV show. In the aftermath of this episode's original air date, fans were critical of both the price and the fact that the bread isn't sliced. In January, 2021, the company did a Series A funding round where it raised $1.3 million. The company plans on introducing new products in 2022, but as of August, 2022, it has not done so yet.  Annual revenue is $5 million. This page will be updated as new information on Kristen and William Schumacher & Uprising becomes available.