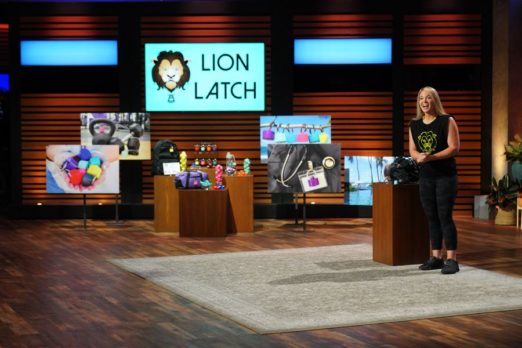 Lerin Lockwood wants to latch a Shark for Lion Latch, her solution for storing jewelry while exercising or playing sports. Lockwood is a high school art teacher and coach. Lerin leads an active lifestyle and frequently removes her earrings and rings while playing sports. She got the idea for her product after catching a softball during a game. When she felt a sting on her finger and removed the glove to check it out, her engagement ring was bent and missing a stone.
Many entrepreneurs get their start by fixing a problem and Lockwood found her problem: where to store jewelry safely when you remove it? After trying different things, she settled on her now patented design. It's a two piece, hard plastic container that you put your jewelry in. A carabiner keeps it securely closed and then you can hook it on your key chain or gym bag or whatever.
She founded the business in 2015 with a successful Kickstarter campaign that raised $14,592. Storing jewelry can protect it from damage caused by dirt while gardening, scratches from exercise equipment and more. She makes the product in her native Texas.
In March, 2020, Lerin appeared on Good Morning America and it blew up her business. She sells the Lion Latch in nine different colors for $9.95. They are also popular promotional items and you can order them with your company logo if you want. As of now, they are only available on her website or Amazon. Lerin has sales and a solid product. She likely wants a Shark's help getting into retail outlets. Will a Shark latch on to this business opportunity?
Company Information
Video

Posts about Lion Latch on Shark Tank Blog
The Lion Latch – Portable Jewelry Holder
Lion Latch Shark Tank Recap
Lerin enters the Shark Tank seeking $150,000 for 15% of her company. She tells about the horrors of lost jewelry with the help of an actress in a trash can "looking for her lost ring. She demonstrates how it works as the Sharks examine their samples. Inside Mr. Wonderful's is a hearing aid which sparks some back and forth between the two. Mr. Wonderful says "this will make me want to invest in you – NOT."
Lerin has $530,000 in sales over the last 5 years with $230,000 of that coming in the past year. She made the decision to quit teaching to pursue this opportunity. Each unit costs $1.50 to make, wholesales for $5 and retails for $10. Her problem is with manufacturing. She's had 3 manufacturers and she still personally packages each product before shipping it.
Mr. Wonderful, somewhat irked by Lerin's jabs at his hearing, is the first Shark out. Mark can't see it becoming a $10, $20 or $50 million company, he's out. Emma isn't interested either, she's out. Lori believes Lerin can solve her manufacturing issues on her own, she's out. Barbara likes Lerin's tenacity but the business is too small, she's out.
Lion Latch Shark Tank Update
The Shark Tank Blog constantly provides updates and follow-ups about entrepreneurs who have appeared on the Shark Tank TV show. Lerin saw the typical uptick in sales after the original air date. She added a travel jewelry case to the line and "sporty designs – Lion Latches with sports logos – as well. 22021 revenue was $800,000-$1 million. This page will be updated as new information on Lerin Lockwood and Lion Latch becomes available.