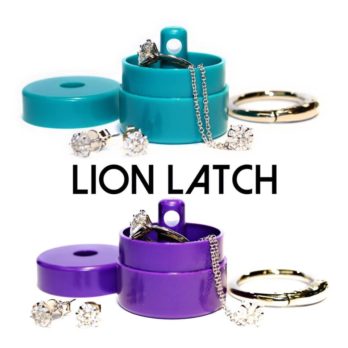 Lerin Lockwood invented The Lion Latch after she damaged her engagement ring while playing softball. She caught a fly ball and felt pain on her ring finger. When she removed her glove, the ring was bent and a stone was missing. That caused her to start thinking about a secure yet convenient way to store her rings when she took them off for athletic events. In addition to playing softball, Lerin coaches volleyball and tennis an works out at the gym regularly. Her personal Lion Latch gets a lot of use.
What she made was The Lion Latch, a small, plastic container for small jewelry that's secured by a carabiner clip. You can use the clip to attach to a keychain, gym bag or purse. This eliminates the possibility of damaged jewelry. The first Lion Latches were made on a 3D printer, but when orders started coming in, she did a Kickstarter to raise money for inventory.
The patent pending Lion Latch is made in Texas by an injection molding company. At $9.95 a piece, they're affordable for everyone. They're also a great promotional item. Many companies (a lot of jewelers) order them with their company logo on them as customer gifts. She got a big break when she was on the View and Good Morning America in 2020. Later in the year, she applied to Shark Tank. Hopefully, a Shark can help her blow up sales for The Lion Latch.
My Take On The Lion Latch
As a father of four daughters and a coach of my daughters' soccer and baseball teams, I can see the need for this product. Kids aren't allowed to wear jewelry while playing sports. They'd often hand  earrings to me on the bench. Not wanting that responsibility, I'd tell them to give them to their parents. Not surprisingly, my own daughters would often forget to take jewelry off before a game. I would have bought one of these back in the day.
I usually take my weeding ring off when I'm doing landscaping work around the house. Since I'm at home, it's not a problem. My sports playing days are over, so I wouldn't need one. My daughters would though and they will be Christmas gifts this year! I'm in.
Will Sharks Latch Onto This Product?
I believe this one will be the big winner of the night. I predict a Shark fight with several Sharks battling over it. Lori will win the fight because it's right up her alley. She got her start with a jewelry organizer. I can almost hear her saying "you remind me of me." Expect a battle, but Lori wins. Six, two and even Lerin and Lori are on QVC with The Lion Latch the day after this show airs.