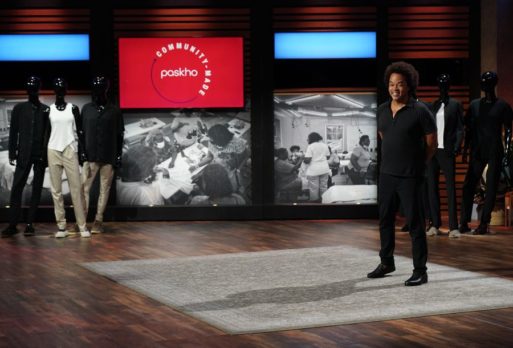 Patrick Robinson pitches Paskho, his "eco friendly lifestyle apparel," in Shark Tank episode 1301 – the season 13 premier. Robinson is no stranger to designing clothes: he's worked for fashion giants like Armani, Perry Ellis, Anne Klein, The Gap and more. He even had his own line of clothes from 1996 to 2002. Paskho was founded in 2015 and its attempting to making clothing more sustainable while providing American jobs.
The concept is fairly straightforward. The company designs the clothing and employs people to sew them in underserved communities. This creates jobs in areas that have seen employment opportunities dwindle due to manufacturing clothing overseas. It also allows for less money on shipping. For instance, Paskho has a "sewing pod" New York City and a new one in Gee's Bend, Alabama – an underserved community of color. To date the "Community Made Initiative" has created 52 jobs and paid out over $230,000 in wages.
Sustainable Manufacturing
Sustainability is also part of Robinson's mission. He says the fashion industry accounts for 8% of global greenhouse gas emissions which is higher than the airline industry. Fashion is also second to agriculture in pollution, mostly with carcinogenic chemicals used to finish fabric. It also ranks third behind the oil and paper industries in water usage. Robinson believes his communities of "makers" is far more sustainable than traditional fashion manufacturing.
He funded his first line of clothes with a successful Kickstarter campaign that raised $68,770. The clothes themselves are very classy looking. They aren't cheap either, but Robinson is competing with the companies he used to work for, so it's high end stuff. For men, pants run between $100-$200. Blazers are around $300 and shirts are between $68-$88. Seeing as he's paid out almost a quarter of a million bucks in wages, he must have sales. The question is whether a Shark will think this fashion business is a good fit.
Company Information
Video

Posts about Paskho on Shark Tank Blog
Paskho Clothing – Eco Friendly Lifestyle Apparel
Paskho Shark Tank Recap
Patrick enters the Tank seeking $500,000 for 2.5% of the business. He explains the Community made concept and talks about the Gee's Bend community. Emma remarks that she recognizes him and he gives the Sharks his resume; they're impressed.
Sales in 2019 were $6.7 million. The pair of pants Lori is examining costs $42 to make and sells for $110. The average cart at checkout is $209 and customer acquisition cost is $95. They aren't profitable yet, either. He's on track to do $4.5 million this year, but he'll lose $2 million because he's building out more sewing pods.
Emma can't believe he didn't do more sales during the pandemic. Patrick explains he had supply chain issues which is why he pivoted to the sewing pod concept. Emma wants to know why his story hasn't resonated  and Patrick says he's building the conversation. She thinks he doesn't know how to tell the story.
Mr. Wonderful thinks Patrick is a talented designer but he can tell he was never a CEO, he's out. Barbara likes the story but she thinks there's a lack of clarity, she's out. Emma says she was a big fan of Patrick's but he needs to figure out how to turn his obsession with his product into customer obsession. Lori doesn't know the fashion business and wouldn't know how to help Patrick, she's out. Mark thinks Patrick doesn't know how to sell it, he's out too.
Paskho Shark Tank Update
The Shark Tank Blog constantly provides updates and follow-ups about entrepreneurs who have appeared on the Shark Tank TV show. 2021 revenue for the firm was around $5 million. As of August, 2022, he is weeks away from opening another sewing pod on the Cheyenne Indian Reservation in Eagle Butte, South Dakota. This page will be updated as new information on Patrick Robinson and Paskho becomes available.