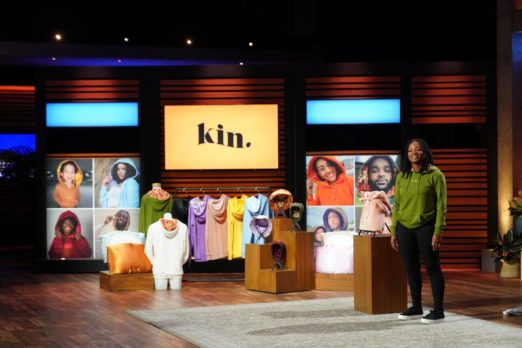 Philomina Kane seeks a Shark investor for KIN, her  clothing line that features satin lined hoodies that protect your hair, in Shark Tank episode 1301. She's known as NaturallyPhilo on Youtube and other social media where she creates videos about hair care for women of color. Over 11 million people have viewed her videos. It's the emphasis on hair care that inspired her to start KIN, which is short for "Keep It Naturally." The satin lining protects both hair and hoodie from natural hair care products.
Kane uses satin because it retains moisture allowing for healthier hair. It's also smoother, cotton cause friction with hair which can lead to breakage and frizzy hair. Basically, satin is better at protecting hairstyles. The company also sells satin lined bucket hats, beanies, pillowcases and hair care products.
Kane got inspired to ditch chemical hair treatments after reflecting on her culture. She spent five years in her native Ghana with her grandmother and learned a lot about herbs and natural remedies. This inspired her to make the natural hair care videos.
The hoodies are the biggest seller for KIN. They come in a wide variety of colors and thicknesses. There's even a "Motherland Collection with an outline of Africa emblazoned on the chest. Bucket hats sell for $42-$50. The hoodies range between $55 and $90, depending on style and thickness. Kane likely wants a Shark's help accelerating growth. Will a Shark wear these hoodies?
Company Information
Video

Posts about KIN on Shark Tank Blog
KIN Shark Tank Recap
Philomina enters seeking $200,000 for 10% of her business. She asks the Sharks who owns a hoodie and who owns hair care products. They all do. She tells the story of her satin lined hoodies and asks the Sharks to examine their samples. She says she got a scholarship to Princeton and she was very stressed. Since she couldn't get free hair care from her family, she cut it off.
She started putting satin scarfs on when wearing hoodies; that's where she got the idea to put satin inside her hoodies. When she got accepted into the Columbia School of Public Health, she elected not to go to pursue being a YouTuber about hair care. She makes the hoodies in China on a pre order basis. They cost $16.75 landed and sell for $80. She gets emotional when she says her family didn't back the move, but she was more passionate about hair care than school. She's since made her peace with them.
Are there sales?
Her first year (2020) she did $246,000 in sales. Half way through 2021 she has $355,000 in sales and about $150,000 in the bank. She has less than 500 units in inventory due to the pre-order nature of her business. Kevin says he's never done well with hair care products, he's out. Barbara says Philomina is "chaotic poetry in motion," she's out. Mark says he likes "anal entrepreneurs" and Philomina needs to figure out what she doesn't know, he's out.
Emma says retailers are looking for black female founded companies. She also likes the diversity of the products. She offers $300,000 for 30% and brings Lori in on the deal.Philomina counters with 20% and Emma says she and Lori will accelerate the business. Philomina counters with 25% and Emma and Lori decline. She starts crying again and says she's crying because she's so happy. They do the deal at 30% and exchange hugs.
KIN Shark Tank Update
The Shark Tank Blog constantly provides updates and follow-ups about entrepreneurs who have appeared on the Shark Tank TV show. The deal closed, but only with Emma. Apparently a different deal than what was shown on air went down allowing Philomina to keep more equity. Emma invested $150,000 for 15% of the business.
Sales doubled after the show aired and they added a children's line. She also added satin lined beanies, pillow cases and car headrest covers. 2021 revenue closed out at just over $1 million. Philomina now has a staff of 15 and doesn't employ friends or family any more due to the "drama" involved. She's eyeing an entry into retail, but doesn't have any firm deals lined up yet. As of July, 2023, life time revenue is $4.9 million and growing daily. In October, 2023, the company was seeking $2 million to fuel growth and is expecting the funding from celebrity Pharrell Williams.
This page will be updated as new information on Philomina Kane and KIN becomes available.
.