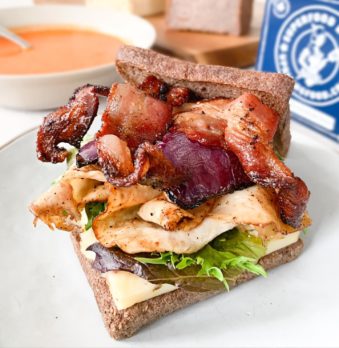 Kristen and William Schumacher created their business, Uprising Food, to make the tastiest Paleo and Keto diet bread on the planet. According to them (and a lot of their customers), they succeeded. Their website is chock full of great reviews and pictures of sandwiches customers made. The company also makes chips with similar ingredients.
William is big into healthy eating, but he realized he wasn't getting enough fiber. So he set out on a mission to make the tastiest, gluten free, low net carb bread on the planet. He made sure it was also LOADED with fiber. The "secret sauce" for the fiber is psyllium husk powder, flax seeds an almond flour. Each slice gives you 36% of your recommended daily fiber intake.
The bread doesn't come pre-sliced. It's actually in the shape of a cube and you slice it yourself. Each cube yield 8 slices of bread – so it's a tad pricey at $12 per cube, but they have around $5 million in lifetime sales as of the week of the original air date. Right now, they only sell direct to consumer on their website and it appears they have more customers than capacity. The couple likely wants a Shark to help them scale their baking operation. Will a Shark like the taste of this bread?
My Take on Uprising Food
As with any food product, it's hard to have an opinion on it until you taste it. I adhere to a Keto diet and I've tried many different Keto friendly breads that are low net carb and high fiber. Some of them were nasty and one actually was like eating a sponge. Some are very good. Aldi carries a good low net carb bread that I buy regularly. From what I've heard about Uprising Food, their products are tasty, so I will be sure to try it.
The one thing I am hung up on is the price. At $12 a cube, it's an expensive loaf of bread. Aldi's bread is less than $5 a loaf and has 20 slices or so. If the Uprising Food bread is really is that good, it could be worth buying when you have a special meal planned. I am also interested in their chips which are also low net carb. When on the keto diet, it's hard to find foods that satisfy the crunch craving. I'll try it. I'm in.
Will the Sharks Want a Slice?
In the past several seasons, Mark has invested in numerous healthy food businesses, so he could be interested. Mr. Wonderful usually doesn't go for anything dealing with the grocery business, but if the company wants to continue with its direct to consumer model, he may be interested. Guest Shark Emma Grede is a wild card, so I have no idea. Lori usually doesn't go for food products unless she likes it and can or will eat it. If she does, she could bid. Barbara is 50-50,she bases her bids on both the product and  the entrepreneur.
The one problem Uprising may face in the Tank are other investors. That often makes the Sharks leery of investing as they'd be diluted. The entrepreneurs are often more firm about percentages too which makes for more difficult negotiations. The company did $1.3 million in Series A funding amongst 6 different investors in January, 2021. That date was well before the show taped in the summer of 2021, so it should come up in the pitch. If it does, that would sink this deal.