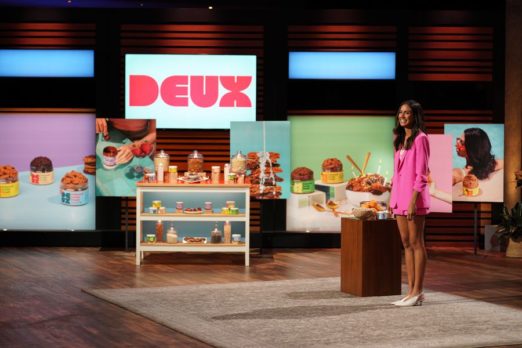 Sabeena Ladha seeks to land a deal for Deux (pronounced "dough"), her line of plant-based cookie dough, in Shark Tank episode 1307. She worked in the venture capital world and are into nutrition. During the 2020  Covid-19 pandemic, Sabeena began taking "fistfuls" of supplements. She asked a friend, hypothetically, if they could create a tasty cookie with all the supplements in it. They did a little research and found out there was no such thing, so they set out to make some.
Sabeena enlisted the help of a naturopathic doctor to blend the various supplements into their vegan and  gluten free recipes. She didn't end up with cookies (you can bake the dough), but the cookie dough was so good, they bottled it up and started selling it as a side hustle on Instagram. She started selling at the beginning of October, 2020 and set a sales goal through the end of the year. The sales goal was met in one week, so she quit her job and went full time.
A jar of Deux will set you back $15. The Cookie dough comes in sugar and spice, gingerbread, pumpkin spice, birthday cake, chocolate chip, brownie batter, and peanut butter flavors. Drip is their newest product in development. It's a vegan alternative to Nutella. Deux can be found in 75 or so Erewhon Markets (where they are the top selling dessert), Fresh Market and independent grocery stores and on their website. The company received a $1 million seed round investment in June, 2021 – right around the time they were taping for Shark Tank. They likely want a Shark's help expanding their retail presence. Will a Shark cough up some dough for this business?
Company Information
Posts About Deux on Shark Tank Blog
Deux Shark Tank Recap
Sabeena enters the Shark Tank seeking $300,000 for 10% of her company. She talks about how she came up with the idea and how she loves junk food. All the doughs are vegan, gluten free and packed with nutrients. For instance, a jar of brownie batter has as much vitamin C as 5 whole oranges. The Sharks try the samples of dough and pre-baked cookies.
Sabeena talks about how her dad bought a gas station and basically lived there. She started in the food and beverage industry after college, then got into the venture capital world because she wanted to learn about start ups. She came up with the idea in June, 2020 and between October and December, 2020 did $70,000 in sales. 2021 sales as of taping the episode are $634,000 and she expects $1.2 million for the year. The day of taping, the product was accepted by Whole Foods for a 40 store trial.
Who's In?
Landed cost is $3.70 and they sell for $15 online. She tells the Sharks she raised $1 million at a $6 million Valuation CAP. The Sharks are impressed with Sabeena. Robert says she's one of the most impressive entrepreneurs he's seen in 13 years but he's not into sweets, he's out. Lori wants it to be healthier, she says it's not the right match; she's out. Nirav identifies with Sabeena and asks what her father would think of her. She gets choked up and says he was an entrepreneur because he had to be one, she gets to be one. Nirav says he's an internet guy and he goes out.
Kevin was impressed by the pitch, but he doesn't eat this stuff, he's out. Mark says there are too many calories and he goes out. Sabeena gives a speech about how she's set to scale the company. Mark says she had trouble reading the room. Robert defends Sabeena and he comes in saying he's investing in Sabeena. He offers $300,000 for 15%. She counters at $300,000 for 12.5% but Robert holds firm. She counters with 10% and 5% advisory shares. Robert says "I'm not going to do it." He withdraws his offer and Sabeena leaves without a deal.
Deux Shark Tank Update
The Shark Tank Blog constantly provides updates and follow-ups about entrepreneurs who have appeared on the Shark Tank TV show. In the aftermath of the show, Sabeena caught a lot of grief for her outfit on social media. She had the last laugh however as she had $1.8 million in sales for 2021. She's projecting $5 million in sales for 2022.
In May, 2022, the company introduced a Cinnamon Roll flavor. It's being marketed as a "breakfast dough." Also in May, the company announced it's products will be available nationwide in The Fresh Market and Bristol Farms stores. As of February, 2023, the products can be found in the aforementioned stores plus Target, Whole Foods, Hyvee, Erewhon, Westside Market and Foxtrot, bringing the total number of stores to over 1200.
I will update this page as more information becomes available.
*editor's note: Sabeena sent me some samples after the show aired and they were ridiculously yummy!