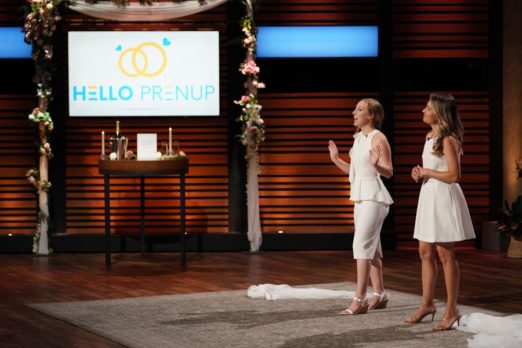 Sarabeth Jaffe and Julia Rogers pitch Hello Prenup, their online prenuptial agreement platform, in Shark Tank episode 1307. Rogers is a practicing attorney in the family law field. Jaffe is the cofounder and CTO of the business; she has an extensive tech background including a stint at Microsoft. They wanted an inexpensive and simple way for couples to draft their own prenuptial agreements while still having the option of hiring a lawyer. Rogers thinks the platform allows for more involvement by the soon to be married couple.
The way it works is fairly simple. One fiancé logs into the Hello Prenup system and creates an account, then they invite the other to join. Then you enter things like income, property and assets. Next is the "issue identification process" which is designed to resolve inconsistencies and keep the lines of communication open. This is where the wants and needs of the couple are ironed out. Hello Prenup then takes all that information and drafts a prenuptial agreement.
Once the agreement is delivered, the couple can sign and notarize it or have an attorney review it for them. The cost is $599 per couple. While some people think a prenuptial agreement isn't romantic, it can save a lot of headaches and expense down the road should the relationship go sour. Rogers actually believes prenuptial agreements improve marriages by getting couples on the same page financially from the get go. Rogers and Jaffe likely want a Shark to help them scale the business. Will a Shark enter into an agreement with this company?
Company Information
Video

Posts About Hello Prenup on Shark Tank Blog
Hello Pre-Nup – Online Prenuptial Agreements
Hello Prenup Shark Tank Recap
Sarabeth and Julia enter the Shark Tank as brides; they're seeking $150,000 for 10% of their company. They talk about all the details of planning a wedding. Turning their backs to the Sharks, they throw their bouquets and veils away. They turn around and say the most important topic in wedding planning is pre-nups. Hello PreNup is the only online platform for crafting pre-nups. They explain the business and its advantage over traditional prenuptial agreements.
The market is valued at $550,000. Julia explains how she got the idea for the business while working as a family law attorney. She said she's spoken to thousands of women about making an easier way to do pre-nups. Sarabeth, a software engineer by trade, was looking for an easy way to do a pre-nup and cold emailed Julia. She was brought aboard by Julia as the "technical partner" in March, 2021. They've been working on the business via Zoom since. They met for the first time in person the night before they taped their segment.
When Robert asks, they ay they've written over 25 pre-nups; the number doesn't impress the Sharks. Two years ago, Julia outsourced the software development overseas. She funded it herself. Sarabeth was brought aboard to fix things. The business launched in March, 2020 – not a good time to start a wedding related business. They have $20,000 in life time sales due to their software issues.
Going Forward
They project $4.1 million for 2021 sales for 2021 and both Mark and Robert say it's a dream. Lori wants to know the cost: $599. The average traditional pre-nup costs $5000. Mr. Wonderful want to know customer acquisition costs. Sarabeth says they are high right now and they are not profitable. She also says they are a tech company and their site is the number one source online for prenuptial agreements.
Kevin says without knowing customer acquisition cost, he can't value the business; he's out. Lori says what they are doing is genius it's "too early," she's out. Mark thinks they will develop a good business but there are too many issues for him, he's out. Robert says people who really need a pre-nup will still go to a lawyer and the rest will go to their website for information, he's out. Julia explains that millennials want pre-nups, but don't want to go to a lawyer.
Nirav says making technology companies happens two ways: by getting a ton of venture capital money or by being scrappy. He loves the women and thinks there's a market for their services. He offers $150,000 for 30%. They counter with 20%. Nirav says he'll go to 25%. Julia asks if Kevin will join in. Kevin says he'll partner with Nirav but at 30% and they take the deal.
Hello Prenup Shark Tank Update
The Shark Tank Blog constantly provides updates and follow-ups about entrepreneurs who have appeared on the Shark Tank TV show. The Monday after the original air date, Hello PreNup put out a press release announcing their partnership with Kevin and Nirav. Given that Rogers is a lawyer, I think this means the deal closed. In the release, they say they plan to use the  funds to expand  beyond the 18 states they currently serve. The deal closed in December, 2021.
Their Shark Tank appearance caused web traffic to increase from 2800 visitors per month to over 30,000 per month. Sales in the aftermath of the original air date increased 545%. The women say they'll use some of their Shark cash to contract attorneys for legal research on how to expand to more states. The deal with the Sharks was finalized in December, 2021. As of June, 2022, they were in 31 states and Washington DC with intentions of covering all 50 by the end of 2022. August, 2022 saw the company add a 32nd state.
In September, 2022, the company announced that LegalZoom founder Brian Liu joined the team as an investor and advisor. This page will be updated as new information on Sarabeth Jaffe and Julia Roger & HelloPrenup becomes available.
In January, 2023, they have not expanded beyond 32 states. By March, 2023, the company has $1.5 million in lifetime sales.