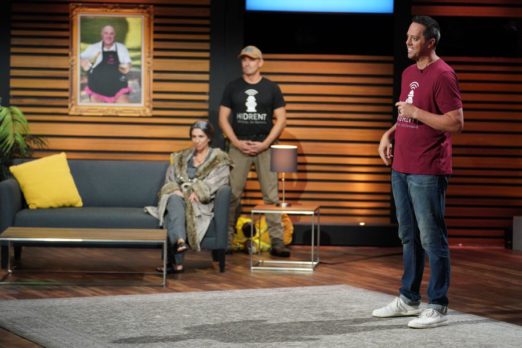 Dave Heimbuch seeks a Shark partner for Hidrent, his app that matches off duty firefighters with people who need jobs done, in Shark Tank episode 1307. Founded in 2017, the business was voted one of the 20 best companies to work for in the Dallas/Fort Worth area. Heimbuch, who is not a firefighter, has a tech sales background. He started the business to help firefighters earn extra money.
It's a lot like other gig apps out there, but they only hire active duty firefighters. The advantage to this is firefighters undergo extensive background checks when they are hired whereas other gig apps have an online form. This gives the customer the security of knowing the person coming into their home is a trustworthy member of their community.
The types of services offered runs the gamut: general handyman services, yard work, gutter cleaning, installing light fixtures, and more. Pricing varies depending on the task. For instance, gutter cleaning runs $158-$192. Customers download the app and pick what tasks they want accomplished and when. Firefighters sign up through the app and Hidrent verifies their employment. The company takes 20% of whatever the cost of the task is. Dave likely wants a Shark to give the app national traction. Will a Shark light a fire and invest?
Company Information
Video

Posts About Hidrent on Shark Tank Blog
Hidrent App – Hire a Firefighter
Hidrent Shark Tank Recap
Dave enters the Shark Tank seeking $300,000 for 8% equity in his company. He has a person dressed as an elderly  woman who needs a trustworthy helper for chores. A firefighter comes in and helps her. Dave then walks the Sharks through booking a job through the app. Next he asks which Shark wants to add more fuel to this fire.
The Sharks like the concept. Dave has a background in digital marketing. He married into a family of firefighters and he got the idea talking to his brother in law. He was telling him how he used an app to book a contractor and his brother in law said "I can do that. So can a lot of the guys at the station." Dave's "marketing mind" went to work and he came up with Hidrent.
Let's Talk Numbers
He started the company in 2018 and has lifetime sales of $850,000. 2019 sales were $125,000; 2020 sales were $260,000 and 2021 year to date sales are $325,000. Hidrent takes 23% of sales as its fee. They charge the homeowner $72 per hour and pay the firefighter $60 per hour. They found the majority of custmers were senior citizens, so they launched in Phoenix and Tampa. He gets customers on Facebook and Nextdoor.
Nirav says it's tough to do local. He said there are over 260,000 neighborhoods. Nirav says he's done the local thing before and he's out. Mark doesn't think controlling your own destiny with digital ad spends, he's out. Robert says seniors and women will love this. He offers $300,000 for 20%. Kevin thinks the idea is brilliant, but it's a "longer slog," he's out. Lori wants to go in with Robert at $300,000 for 35%. Dave counters with 20% and Robert says it's not enough for 2 Sharks. Lori counters with $300,000 for 33.3% and Dave takes the deal.
Hidrent Shark Tank Update
The Shark Tank Blog constantly provides updates and follow-ups about entrepreneurs who have appeared on the Shark Tank TV show. In the immediate aftermath of the show, there is no evidence the deal with Lori and Robert closed. On show night, Lori Tweeted:
Luv businesses that help people and this business helps everyone involved – the firemen that do the service & the people getting the service. #SharkTank
@ABCSharkTank
As of June, 2022, it appears the deal with Lori and Robert did not close but the company raised $662,000 in seed funds from 9 investors. Also in June, the company is doing a StartEngine equity crowd funder with an $8.5 million valuation. Ultimately, they raised $149,761. They also announced a partnership through 2024 with the International Association of Fire Fighters – a move that gives them instant access to over 300,000 fire fighters nationwide. They'll be donating 2% of profits to the IAFF during the partnership. This basically made the company go national almost overnight. They also are offering service to businesses now. Annual revenue is around $6 million. This page will be updated as new information on Dave Heimbuch & Hidrent becomes available.