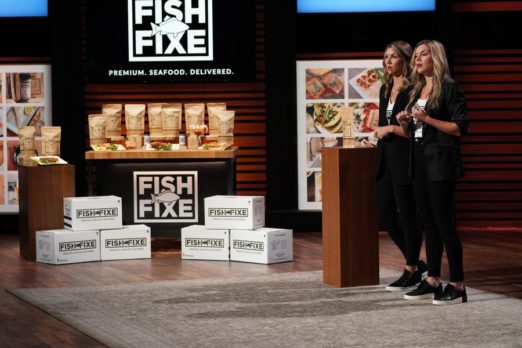 Emily Castro and Melissa Harrington hope to hook a Shark for Fish Fixe, their frozen fish delivery service, in Shark Tank episode 1307. The business partners met as college soccer team mates at Texas A&M and remained friends. Melissa has experience in seafood sales and marketing and Emily worked for a national liquor distributorship as a division manager. When Melissa's second child was born, she wanted to eat seafood twice a week, but her hectic schedule made it difficult to plan for fish.
She began freezing fish in vacuum sealed wrap so she could easily defrost and prepare it without going to the fish market. Soon, she was doing the same thing for friends and family – including Emily. While on vacation together, they began talking about whether other families wanted a more convenient way to incorporate fish in their diets. That conversation was the genesis of Fish Fixe.
The business operates like many other food delivery services. You can order one time or subscribe. All fish is sustainably sourced and they curate the fish offerings by what is seasonally available. The standard box is costs $149 and they pick the fish. It includes two 6 ounce portions of 8 varieties of fish – enough for two fish meals for two for a month. For $159 you can pick 16 portions from the fish varieties on their menu. All fish comes with thawing and cooking instructions. These women likely want a Shark to help them (pardon the pun) scale their business. Will a Shark eat this fish?
Company Information
Video

Posts About Fish Fixe on Shark Tank Blog
Fish Fix – Frozen Fish Delivery
Fish Fixe Shark Tank Recap
Emily and Melissa enter the Shark Tank seeking $200,000 for 15% of their business. They say they want to make waves in the seafood industry. They talk about the benefits of eating seafood and explain that only 2 in 10 Americans eat seafood twice a week. The reason, they think, people don't eat more fish is consumers don't know how to confidently buy, handle and prepare fish. They show off their packaging then let the Sharks eat sample shrimp, crab cakes, salmon and American Red Snapper. The Sharks LOVE the sauce they're dipping their fish in!
They talk about their backgrounds and their service. The most popular box is $149 or $139. The company did $821,000 but only made $20,000 profit. Customer acquisition cost is $30-$40. Sales for the current year (2021) are at $494,000 year to date and they project breaking $1 million in sales for the year. The average order value is $143 and the delivered cost is $111.
What They Need
The reason they're in the Tank is they need help with shipping. When the Covid-19 pandemic lockdowns were in effect, they went from 75%, local one day shipping to over 50% shipping to the east and west coast. Shipping costs are 11% of their revenue. The plan is to use third party logistics to keep shipping anywhere under 2 days.
Mark says their primary costs, shipping and seafood, are variable; he's out. Nirav asks about customer retention and thy say they retain 55% of customers and that 75% of total revenue is from the subscription side of the business. Robert says he loves fish but he can't help with shipping and logistics, he's out.
Kevin says it fits into his "Chef Wonderful World," and says he can help with customer acquisition. He offers $200,000 for 33.3% of the business. Nirav says their industry is moving fish and he goes out. Lori says she's their customer but she thinks they can get money without giving up equity, she's out. Kevin says "all fish swim back to Mr. Wonderful." They counter with 25%, Kevin counters with 30%. They ask how Kevin can help with customer acquisition and he explains his audience is mostly female. Mark defends Kevin's offer. The women push at 25% but Kevin won't budge. Lori jumps back in and offers $200,000 for 25% and they accept!
Fish Fixe Shark Tank Update
The Shark Tank Blog constantly provides updates and follow-ups about entrepreneurs who have appeared on the Shark Tank TV show. It appears the deal with Lori closed as Fish Fixe appears on her website. On show night, Lori Tweeted:
Great news! We move at lightning speed, we've already fixed all shipping
hurdles & can reach 98% of the country w/in 2 days! Plus our shippers are now 100% recyclable & new eco friendly packaging!
She also Tweeted images of her doing a Facetime call with Emily and Melissa on show night. The company issued a press release stating they would be using their investment from Lori to "decentralize distribution to allow for more efficient service to customers on the East and West coasts. The company also plans to change its packaging to be 100 percent curbside recyclable." Despite the upgrade in distribution capacity, the company experienced shipping delays in early December, 2021. This was due to the Shark Tank Effect coupled with high holiday volume. By March, 2021, sales had increased 400%.
The women also put out the recipe for the sauce they served the Sharks on air. Here it is:
1/2 cup ketchup, 2 tbsp lemon juice, 1/2 tbsp minced garlic, 1 tbsp horseradish, 1/2 tbsp creole mustard and black pepper to taste
By September, 2022, they're on track to do close to $4 million in sales for the year. The company gets an update segment in episode 1403. In the update, the women say they had $825,000 in sales, but only $20,000 was hitting their bottom line. They had a major logistics issue. Their shipping margins to east and west coast customers was crushing profits. Before Shark Tank, they had a company that was going to help them with shipping, but they made promises they couldn't keep. That caused a lot of cancelled orders.
Lori and her team stepped in and told the women to be transparent with their customers about their shipping issues. They spent a lot of time on the phone doing customer service. Lori also found them a company that could help with their shipping issues. The result was they did $1.1 million in sales since appearing in the Tank less than a year ago. Lori says she loves Emily and Melissa because they get things done.
As of July, 2023, the company is on track to do over $2 million in sales for the year.
This page will be updated as new information on Emily Castro and Melissa Harrington & Fish Fixe becomes available.