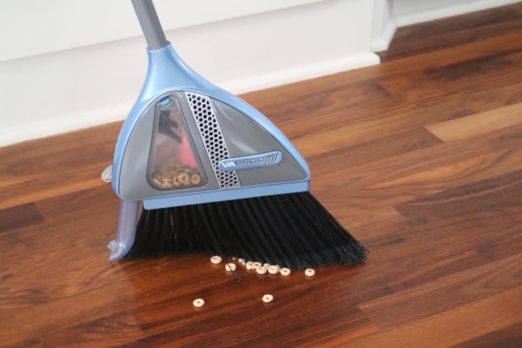 Trevor Lambert and John Vadnais seek an investment for Vabroom, their broom that's also a vacuum cleaner, in Shark Tank episode 1309. It looks like a broom, but it has a one cup capacity canister with a vacuum so you can just sweep and then suck up the pile of debris you swept up. As they say on their website, "no more broom lines." It operates on a rechargeable lithium battery and you activate the vacuum by tilting the broom.
They got the business started with a successful Kickstarter campaign that raised $74,494 back in April, 2019. They raised another $78,350 on IndieGoGo around the same time. Due to manufacturing delays from the Covid-19 pandemic, they didn't fulfill any orders until October, 2020. It's not the first time Trevor and company have raised funds on crowdfunding sites. Trevor has funded other products through his design firm, Enhanced Product Development. The firm has helped their clients license products to stores like Walmart, Target, Lowes, Bed Bath & Beyond and more.
The Vabroom is available on Amazon for $59. It was originally $79, but they brought the price down a bit. It can eliminate the need for a conventional vacuum for people with solid surface floors. Reviews are widely mixed on Amazon. People seem to either love it or hate it. Either way, they likely want a Shark's cash for help with amping up production. Will a Shark want to clean up with this business?
Company Information
Video

Posts about Vabroom on Shark Tank Blog
Va-Broom – Broom & Vacuum Combo
Vabroom Shark Tank Recap
Trevor and John enter the Shark Tank seeking $350,000 for 2.5% of their company. They introduce and demonstrate the product onstage. Kevin comes onstage and tries the product. He thinks it's very cool. The Sharks have samples and they inspect them. Trevor explains how he started his design firm. John is a plumber in a 4th generation company and he invested in VaBroom.
They have $3.1 million in sales for the last 12 months and they are projecting $5 million for the next 12 months. They were selling direct to consumer only. When they delivered a two month test supply of inventory to Bed Bath and Beyond, they sold out in two weeks. It costs $17 landed, wholesales for $37 and retails for $59.99. They made $307,000 on the $3.1 million and rolled it all back into inventory.
Lori asks about patents. They have an international patent and a US design patent pending. Lori asks why it is different than a Dustbuster. They say people with mobility challenges like. John invested $200,000, they have the Kickstarter money and the design firm funded the rest. VaBroom pays a 5% royalty to the design firm.
Mark says they are trying to segment things out from the design firm, he's out. Peter liked the pitch but doesn't think the pain point, he's out. Daymond says they either want exposure or they're greedy, he's out. Kevin says he needs to be incentivized. He offers $350,000 with a $3 royalty until he recoups $700,000 plus 2.5% of the design firm. Lori says she's not sure they'll get their patent and there's too much competition, she's out. They counter Mr. Wonderful with $700,000 for 5%. They confer and take Kevin's deal. Kevin says he did the deal because he buys a new broom for Barbara every year and he likes this model.
Vabroom Shark Tank Update
The Shark Tank Blog constantly provides updates and follow-ups about entrepreneurs who have appeared on the Shark Tank TV show. The first re-run of this episode in June, 2020, is five months after the original air date and there is no evidence the deal with Mr. Wonderful closed. As of this moment, there isn't much to report. The Shark Tank Blog will follow-up on Vabroom & Trevor Lambert and John Vadnais as more details become available.