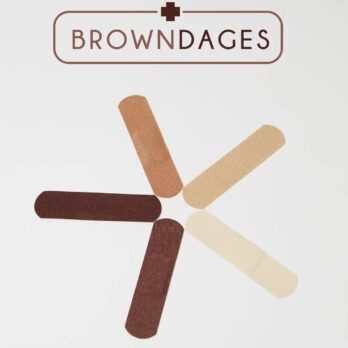 Husband and wife team Intisar Bashir and Rashid Mahdi pitch Browndages, their "Band Aids" for people of color, in Shark Tank episode 1319. The couple started their business in 2018 when they noticed the bandages their kids were wearing didn't match their skin color, so they decided to make them themselves.
At first, they focused on adult bandages. A bit later, when their kids expressed interest in bandages with superheroes and princesses on them, they noticed those types of bandages didn't look like them either. They had an artist draw images of their own kids as astronauts, ballerinas, veterinarians and more to put on the bandages. Now, they have customers send in photos of their kids to be characters on the bandages. They were so popular, they sold out of  their projected 2020 inventory in just a few months.
Browndages come in five shades: caramel, ebony, wheat, sand and mocha. They sell each shade individually or as a variety pack. The kids Browndages have a boys, girls and unisex pack. The adult bandages cost $3.99 for 20 bandages and the kids bandages cost $4.99 for 20 pieces. They are available in around 25 mom and pop shops around the country and on their web site.  Inistar grew up in an entrepreneurial environment as his dad owned a shoe and clothing store. Both he and his wife still work full time. They likely want a Shark's help growing their brand enough to go full time.
Company Information
Video

Posts about Browndages on Shark Tank Blog
Browndages Shark Tank Recap
Intisar and Rashid enter the Shark Tank seeking $75,000 for 7.5% of their company. Rashid shows a "typical" bandage on his arm. It doesn't match his skin. The bandages come in all shades so "people see you, not your wound." They go on to explain their character bandages. The Sharks examine their samples. Kevin and Daymond want to know why the big companies can't do the same thing.
In 2020, the social unrest blew their sales up to $130,000 in 6 days and they sold out. They couldn't restock for 4 months. Sales for the year ended up at $135,000. From November, 2020 to now (mid 2021) they have $50,000 in sales. Normal sales volume is $7500-$10,000 a month, direct to consumer on their website. All their business is word of mouth on social media. They want the Sharks' help with getting into big box retail. Dollar General reached out to them last year, but they wanted an exclusive contract.
The tins retail at $4.99 and cost $1.27. The paper boxes retail at $3.99 and cost 63 cents. Robert wants their "aha moment." They made their product to show their kids to take pride in themselves. Kevin says it's hard to get distribution. Rashid wants to sell to hospitals, daycares and schools. They order 60,000 boxes at a time whereas the big companies order tens of millions at a time.
Robert thinks the scale is too massive; he's out. Rashid says their prices are comparable. Kevin says Sharks can get them in front of the top three players in the industry and license it; he offers $75,000 for 15%. Rashid thinks it's a smart proposal. Lori says she'll go in with Mark and Daymond and they agree. Daymond says they should go to 30% for $100,000. Mark says he'd give it to his players and into Dallas area schools. Daymond says he'll co-brand with FUBU and Lori says she'll help get them into retail. Inistar counters with $100,000 for 7.5% for each Shark. Mark says the three Sharks will also extend a $75,000 line of credit. Kevin says he'll do $100,000 for 15%. Rashid counters the three Sharks with $100,000 plus the line of credit for 25% and they agree.
Browndages Shark Tank Update
The Shark Tank Blog constantly provides updates and follow-ups about entrepreneurs who have appeared on the Shark Tank TV show. The deal with the Sharks didn't close for unknown reasons. One reason might be that the company did $130,000 in sales in the week following the initial air date! Since airing, they are available in dozens of mom and pop shops across the country and in limited ACE Hardware stores. There are now many natural tone bandage products on the market, including industry leader BandAids by Johnson and Johnson. Johnson and Johnson took a lot of heat on social media for the move with many black influencers calling them out on 100 years of  a lack of inclusivity.
As of August,2022, the company is still in business with less than $1 million in revenue. By March, 2023, they surpassed $1 million in lifetime sales. In addition to the bandages, they now sell pajamas, first-aid kits, balms and books.
The Shark Tank Blog will follow-up on Browndages & Intisar Bashir and Rashid Mahdi  as more details become available.