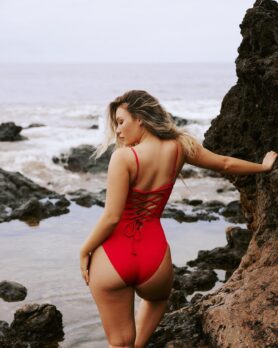 Leila Shams seeks an investor for TA3, her line of women's' swimwear that also shapes the body, in Shark Tank episode 1305. In the past, Leila dreaded going on beach vacations because she felt the urge to diet beforehand. She was concerned with how her tummy looked and it sucked the joy out of it for her. Ultimately, she decided to have liposuction. While on the mend from that, she had to wear a surgical compression garment. She was blown away by the way the fabric shaped her body.
That's when she decided to start TA3 (which is EAT backwards). She calls it "a confidence boosting, mega sculpting swimwear line." Leila is a fashion designer by profession and has over 20 years experience in the industry. She says it took her three years and hundreds of prototypes to come up with a proper design. The suits (and business) premiered in June, 2020. She put out a video of herself in one of the suits and women loved it.
The suits are sold online at the company's website. There are currently four styles: Lacey, Plungey, High Cut Plungey and High Cut Zippy. Suits cost $178 and come in a variety of sizes and colors. The website will determine what size to order for you after you answer a series of questions. If the fit isn't right, don't worry – shipping and returns are free. Leila wants a Shark to help in adding lengths and fits to her best-selling styles and expanding her team. Will a Shark swim in these suits?
Company Information
Video

Posts about TA3 on Shark Tank Blog
TA3 Swim – Swimsuits for Women
TA3 Shark Tank Recap
Leila enters the Shark Tank seeking $500,000 for 10% of her business. She says bikinis are doing women no favors. The Sharks get a kick out of her presentation. She forgets her line and swears prompting the Sharks to laugh. Three models onstage reveal their swim suits and they demonstrate how to cinch the back to create the shaping and support.
Kevin wants too know if they're only for Rubenesque women and Leila says she has sizes from extra small to 3XL. Lori likes the material. Leila says it's similar to a corset, but with stretch fabric. Sales in 13 months are $1.4 million with $800,000 in profits. She put most of the cash back into inventory. Leila gives the Sharks her background information. All sales are direct to consumer. She's had a lot of success with Tik Tok influencers to drive sales. The lining has a patent pending. Return rates are 20%, Daymond says that's good. They cost $48 to make and sell for $178.
Barbara says she has a return rate of 25% with Raising Wild, she doesn't want to go down that road again; she's out. Mark congratulate Leila on her success, but it's not a fit for him; he's out. Kevin says he has no connection to the product; he's out. Lori asks what Leila wants the money for and Leila says she wants more inventory because she's constantly selling out. Daymond says inventory kills more businesses in this industry and he's worried about it; he's out. Lori says the play is licensing the patent, Leila says she'd never do that so Lori is out.
TA3 Shark Tank Update
The Shark Tank Blog constantly provides updates and follow-ups about entrepreneurs who have appeared on the Shark Tank TV show. The first re-run of this episode in June, 2022, is just five months after the original air date. TA3 celebrated its second year in business on June 9, 2022. The Shark Tank Blog will follow-up on TA3 & Leila Shams as more details become available.