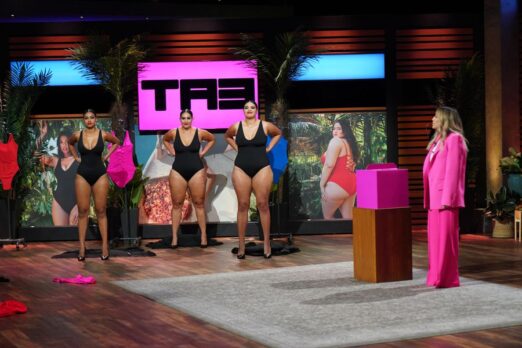 Leila Shams created TA3 Swim out of anxiety. Before going on a beach vacation, she'd feel pressure to diet so she'd look good in a swimsuit. It took the joy out of vacationing for her. She was so concerned about it, she had liposuction. While recovering from the surgery, she had to wear a surgical compression garment. She thought if she could make a woman's swimsuit out of similar material, she'd be on to something.
Leila is no stranger to the garment industry. She's been a fashion designer for over 20 years working with brands like Donna Karan, Express, Bebe, Tommy Hilfinger and more. She even had her own clothing line for nearly 7 years. Designing compression swimsuits should have been easy for her, but it wasn't. It took three years of trying different fabrics and designs before she got it right. In June, 2020, TA3 Swim was launched.
The suits are made of a nylon and spandex blend and they're designed to lift, support and sculpt women's bodies. They're designed to make women feel more comfortable in a swimsuit, particularly if they're carrying a few extra pounds. Determining sizing is done via a questionnaire on the website. Leila says "making women love the way they look in a swimsuit has been the greatest thrill of my career." She's also charitable. 5% of sales go to the Mia Sutphin Foundation, an organization that provides healthcare to children in need. When she pitches TA3 Swim to the Sharks in episode 1305, she's hoping one will swim with her.
My Take on TA3 Swim
I'm obviously not going to wear one of these suits, so I showed them to my wife. At $178 per suit, they aren't in the same price range as what she normally buys, but she asked "can I get one?" Like many women, my wife is self conscious about her body. She shouldn't be because she's incredibly hot and a former Canadian Olympic qualifier in the breast stroke. She never got to the Olympics due to a career ending knee injury.
If she likes the suits, chances are a lot of other women will too. Since moving to Florida a little over six years ago, we spend a lot of time in our  swimsuits whether at the beach, boating or hanging out around our pool. I suppose she'll get one. As the saying goes, "happy wife, happy life."
Do Sharks Swim in These Suits?
I'm wondering why Leila is in the Tank at all. She's launched other businesses without a Shark, so why does she need one now? I suspect she was contacted by a producer rather than going through an open call. This pitch has that feel to it. As for the Sharks, they could be interested if the price is right.
Daymond is always a focus when any kind of fashion product is on the show. I wouldn't be surprised if he was familiar with Leila and her work. That doesn't necessarily translate into a deal though. As for Barbara, she was burned by a swimsuit company, Mix Bikini, so she may still have a bad taste in her mouth. Mark won't go for it – he's made it quite clear this season he doesn't "do clothing." Lori usually doesn't either. Kevin may take a flyer if the valuation is right, but my Spidey senses are telling me there's no deal here.