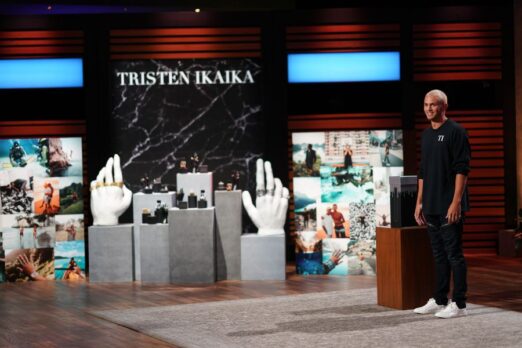 Tristen Ikaika Rings are the brainchild of Tristen Amal Ikaikamaikai'ikaneokalani Persons. He started making them when he was 12. When started the business in 2017, he amassed an almost cult-like social media following. He started on Instagram taking photos of his travels around the world. Now, when he travels, he searches for the raw materials for his rings: spoons (and occasionally forks). Each ring is unique and he only sells a certain amount at a time which creates scarcity.
His fans eagerly await Tristen's "drops." He announces on Instagram when he will release a new set of rings and his fans literally park at their computers, waiting for the next sale to begin. This rabid fan base dubbed him the "King of Rings." He also makes and sells bracelets and sweatshirts. The best part of his success is he doesn't spend any money on marketing, all his "advertising" is done on Instagram through his followers.
The rings aren't the stuff you'd find at Tiffany's. They're in the $50-$75 range, so just about anyone can afford them. A lot of people collect them like baseball cards. Before he  was the Ring King, he had a substantial following on Instagram and was known as more of a travel influencer. Since he'd been making the rings only for himself at first, he often wore them in his Instagram posts to "elevate his style." People started asking about them, so he started selling them. Little did he know then he's become "ring royalty." He'll pitch Tristen Ikaika Rings in the Shark Tank in episode 1305. Will the Sharks wear these rings?
My Take on Tristan Ikaika Rings
I don't wear rings, except for my wedding ring. My wife and daughters do though. In fact, my 17 year old has a couple of Tristen Ikaika Rings. When I asked if she ever heard of this guy, she said yes and held out her hand. She was wearing two of his rings. Apparently, one of her friends is one of the cult-like followers of Tristen. My daughter thinks her obsession is funny, but she still likes the rings.
Tristen is going to sell a crap ton of his rings on show night. His website says to expect extended delivery times due to the "Shark Tank Craziness." While I'm not a customer, I think Tristen is a good entrepreneur – he's already managing expectations. I'm in.
Will Sharks Ring in a Deal?
I'm pretty sure he'll do a deal on the air. It may not close afterwards, but this kid is smart enough to know the value of doing a deal on the air. That said, several Sharks could be interested. Lori, Mark and Daymond already have invested in jewelry companies, so I'm not sure if they'll bid due to conflict of interest.
That leaves Barbara and Kevin. Barbara is one to latch on to the entrepreneur rather than the product sometimes. Tristen has the type of energy that could cause her to gravitate to him. Mr. Wonderful could slide this into his wedding related businesses. The product also lends itself to one of his royalty deals. Look for a deal with Kevin.