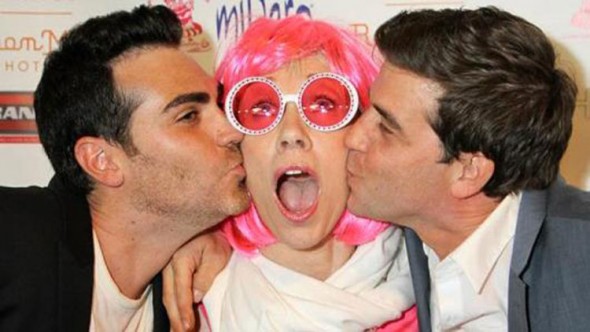 Frank Scozzafava and Adam DiSilvestro come to episode 315 with their product, the Mix Bikini. The idea behind Mix Bikini is that women can mix-and-match their swimwear. Each suit comes with eight separate pieces, all of which are interchangeable. The more suits a woman buys, the more styles and designs she can create. Each piece is reversible, creating options for hundreds of different styles from just a few pieces.
Will the Sharks see the potential in the interchangeable bikini bits, or will the pair leave the Tank without a deal?
Mix Bikini Shark Tank Recap
Scozzafava and DiSilvestro come to the Shark Tank seeking $50,000 in return for a 5% equity stake in the business. Scozzafava demonstrates the website, showcasing the user's ability to create designs with a virtual model by choosing from styles and patterns.
Robert Herjavec wants to know about sales. Scozzafava explains that they've only done a "soft launch," so sales, to date, are minimal.
Barbara Corcoran asks about the cost of each suit. At $9.99 per piece, a complete Mixx Bikini would cost between $40-$50 retail. She presses further, asking about the business model. Scozzafava explains that they intend to expand beyond the online offering, creating kiosks, which would cost around $25,000 to build, in addition to rental of the space.
When pressed about the business model, Scozzafava flounders. Daymond John and Kevin O'Leary want to know if the pair intend to sell the Mix Bikini themselves or license it out. Scozzafava isn't sure. He says they've come to the Shark Tank for guidance.
Who's In?
Mark Cuban isn't about to let that sit. "When you come into the Shark Tank, you have to have a business. We can offer capital, we can offer guidance, but we can't set the path for you. What you guys have, is a product and an idea, and a hope." He's out.
Kevin O'Leary tells Scozzafava, "The guys who walk out of here with money are able to articulate, in 9o seconds, this is how I get rich. That's all I care about."
Scozzafava explains that they have standing investments "up to $500,000," passionately defending his product, and stating that they're going to build the brand, and license it to big manufacturers or sell it themselves.
Daymond John remains unconvinced. "It's not that easy," he tells them. "Trust me. If it was, I'd be all over it. I'm out."
Barbara Corcoran makes an offer. $50,000 in return for 10% of the company. Against all odds, Scozzafava's passion has won the pair a deal, even without a solid business model or sales.
Mix Bikini Shark Tank Update
Most entrepreneurs, upon the successful completion of a Shark deal, are ready to celebrate. Scozzafava and DiSilvestro are no exception. When Mix Bikini returned on an episode of Beyond the Tank, it was revealed that the pair rented out a nightclub for an evening after their initial Shark Tank appearance, and put on one of the biggest, wildest parties New York City has seen. Barbara Corcoran was the guest of honor.
Later, after the champagne ran out and the bills started rolling in, she realized that the ambitious and impulsive pair had lost her investment. The sales they counted on from their appearance on the Shark Tank didn't happen because their website crashed. The site wasn't able to be revived for over a week, costing over $200,000 in estimated sales lost.
Barbara was forced to cut her losses, but one of the creative partners, Kelsey Duffy, was able to rebrand the product to "Versakini," and recover the floundering business from disaster. Today, Versakini is selling briskly, proving that hard work and dedication are the most important keys to success.
Barbara, in an interview with the Shark Tank Blog, said she "loves" Frank, but won't give him any more money. She harbors no ill will, even though this business was a Shark Tank failure.
As of 2018, Versakini was still in business with annual revenue of $5 million. In January, 2022, the website is up, but there are no products available for sale. Also, social media hasn't been updated since January 2018. Kelsey's LinkedIn profile says she shuttered the business in 2018.
Posts about Mix Bikini on Shark Tank Blog
Mix Bikini Company Information