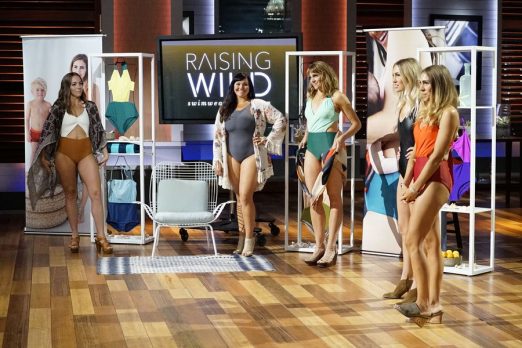 Kara Haught and Shelly Hyde pitch Raising Wild, their line of swimwear that allows for full movement, in Shark Tank episode 804. The two sisters grew up in Florida and wore their bathing suits all the time. They started their company to provide women a stylish bathing suit that "embraces movement."
Growing up, when they weren't at the beach, fishing, wake boarding or otherwise enjoying the Florida outdoors in their bathing suits, they were still in their bathing suits! A bathing suit to a Floridian is like a pair of jeans to folks elsewhere in the USA. They also grew up watching their mother sew.
In 2015, they decided to follow in mom's footsteps and design their own line of bathing suits that looked good, but allowed for some range of motion while enjoying outdoor activities. Raising Wild bathing suits look glamorous and sexy, but still allow women to "raise their own wild." Reviews of the suits indicate that women like the fit and fashion of the products.
They likely need a Shark's help with cash for growth and sourcing production. Will a Shark "raise some wild" (and some cash) and invest in this business?
Raising Wild Shark Tank Recap
Kara and Shelly enter seeking $100,000 for 20% of their business. They tell their story, hand out samples and start fielding questions. Sales are $130,000 lifetime. They've done all social media marketing to date. Margins are good: they make a suit for $38 and sell them foe $130-$160.
They need money for marketing but Mark says they need a strategy. Kevin says there's nothing to invest in and goes out quickly. Mark thinks their planned expansion into kids' swimwear is too much too soon, he's out. Lori thinks it's a lot of work and she's out too. Robert says it's too soon and he's out.
Barbara offers $100,000 for 51% contingent on pricing the suits at $99. The girls counter at 35% and they ultimately agree to a 50% split with Barbara.
Raising Wild Shark Tank Update
The Shark Tank Blog constantly provides updates and follow-ups about entrepreneurs who have appeared on the Shark Tank TV show. The deal with Barbara closed and the women appeared in an update segment with Barbara's "Family of Entrepreneurs" later in season 8. In the year following their first appearance, they sold $400,000 worth of suits.
As of November, 2022, they expanded into kids' swimwear and total lifetime sales for the company are over $25 million.
Posts About Raising Wild on Shark Tank Blog
Raising Wild Company Information
Video