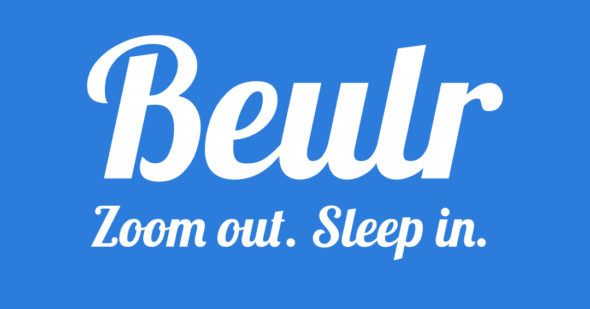 Peter Solimine seeks an investor for Beulr, his app that has bots attend Zoom meetings for you, in Shark Tank episode 1306. Solimine, currently a junior at Tulane majoring in Economics and Computer Science, created his app while attending virtual classes during the Covid-19 pandemic. He wanted to sleep in through early Zoom classes, so he created Beulr.
It's fairly straight forward. You simply schedule the meeting or class time in the app, enter your Zoom account info (optional but you'll show up as a guest if you don't) and enter the Zoom meeting ID. That's it. You don't even need to be at your computer or even have it on. The meeting is attended by bots "in the cloud." There are other things you can do, but that's the basics.
Currently, the app is free to use, but there will be a cost when they complete the promised "premium features." Peter is developing a program that will not only attend but also record and transcribe meetings. He's also working on having a video loop of you to show on screen. Solimine doesn't recommend having Beulr attend classes or meetings where active participation is required. He says it's a tool to "time-shift meetings with arbitrary attendance requirements." He definitely wants a Shark's cash to build out the premium features, he plainly states on his website he's seeking investors to do that. Will a Shark want to go to this meeting?
Company Information
Video

Posts About Beulr on Shark Tank Blog
The Beulr App – Skip Zoom Meetings
Beulr Shark Tank Recap
The scene opens with a bed with a big screen on top of it. Peter is on screen. The hallway is empty and the Sharks are wondering what is going on. An alarm clock goes off and Peter gets out of bed, puts on a robe and begins his pitch. He's seeking $150,000 for 20% of his business. He explains the origins of the app, then schedules a Beulr meeting live. The Sharks are getting a kick out of the pitch.
He came up with the app so he wouldn't have to go to an 8 AM lecture when the pandemic started. He spent just $300 on marketing and had 92,000 users the last time he checked. To get the business going, he quit school, maxed out his credit cards and moved home. He charges new users $6.99 per month (the app is still free today however). Mark says why not just charge 5 bucks one time and Peter says he never thought about that.
Lori has a problem with the app's integrity and she goes out. Similarly, Kevin has a problem with compliance issues, he's out. Daymond says Peter invented a new way to play hooky, but he echoes Lori and Kevin's sentiments; he's out. Robert says Peter will never make a business out of this, he's out. Mark says Peter should go back to school and learn AI, he's out. In the hallway Peter says "if Mark Cuban tells me I should go back to school, maybe I will."
Beulr Shark Tank Update
The Shark Tank Blog constantly provides updates and follow-ups about entrepreneurs who have appeared on the Shark Tank TV show. The features pitched on Shark Tank (video tape loop and meeting recordings) are still not available. Shark Tank fans nearly universally slammed Beulr on show night with one fan calling it a "hilarious but stupid product." Peter graduated Tulane in May, 2022.  As of October, 2022, he still lists Buelr as his full time job. The website is still up, but social media is dark.
Peter is having success repurposing the app as a business productivity tool. People can skip virtual meetings and send Beulr instead or attend with the app as a virtual assistant. Either way, at the end of a Zoom meeting, you get a recording of the meeting and a transcript. Business people like the app because the transcripts allow them "to skim through the entire call within seconds and find the relevant information. The app still only works with Zoom, but Peter is working on compatibility with other platforms.
This page will be updated as new information on Peter Solimine & Beulr becomes available.