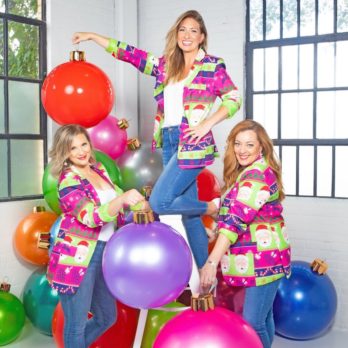 Jennifer Couch, Amberly Hall and Kristy Moore, three entrepreneurial cousins, pitch Holiball, their inflatable giant ball ornaments, in episode 1207, the 2020 Shark Tank Holiday Special. The cousins started the business in late 2019 to create "Texas sized" Christmas ornaments. Since then they've been showing off the Holiball at a variety of major trade shows, including the Home & Gift Buyer market at the Dallas Market Center, Atlanta's Americas Mart, and  the Best of Show Showroom at the Vegas Market. Once March, 2020 and the Covid-19 pandemic shut  down the American economy, their travels in the USA were put on hold.
They sell on their website and in mom and pop shops in 29 states across the USA. There is also a Latin American distribution channel. In addition to selling online, they partner with select, Houston area businesses with custom Holiballs.
Holiballs come in two sizes: 18 inch or 30 inch. Each ball comes with stakes, anchoring patches, a hanger plug and a topper. The balls come in 23 Christmassy colors and range from $40 to $60 depending on the color and size. The ladies have made inroads into a few big box stores and they're featured in Christmas displays in select Prada windows. The ladies want to build their brand and put their product in stores all over the USA. They're hoping a Shark can help them with that.
Company Information
Posts about Holiball on Shark Tank Blog
Holiballs – Giant Christmas Ornaments
Holiball Shark Tank Recap
Jennifer, Amberly and Kristy enter the Shark Tank seeking $150,000 for 10% of their business. They tell their story and give their pitch. The Sharks inflate their samples and the women demonstrate their power inflation machine.  They put the whole business together in 120 days. They have $171,000 in sales since they started in 2019. For 2020, they are projecting $650,000 in sales. Last year they didn't have enough inventory. The balls cost $10 to make and retail for $40 and $60. Inventory is their biggest challenge.
Kevin has invested in three Christmas businesses and he doesn't want to take the journey with them; he's out. Barbara has a problem with the valuation but offers $150,000 for 25% and she doesn't want them to shop it around, she wants an answer right away. Daymond offers $150,000 for 20% and Barbara is out. Mark says he'll go in with Barbara at $150,000 for 25%. Lori joins Daymond's deal  and the ladies think about it. Ultimately they join Mark and Barbara.
Holiball Shark Tank Update
The Shark Tank Blog constantly provides updates and follow-ups about entrepreneurs who have appeared on the Shark Tank TV show. The deal with Mark and Barbara didn't close. In the aftermath of the original air date, the Holi-gals wrote this on their Instagram:
"We have spent most days and nights since at the warehouse fulfilling the generous amount of orders that poured in over the next several days. It has been exhilarating, exhausting and exciting to see our product ship all over the world and to hear the customer responses. We are so grateful for your patience!"
As of July, 2021, the company's revenue is $800,000-$1 million.
The company gets an update segment in season 13, episode 1308. In the update segment, they say they moved to a fulfillment center to help with shipping. They also beefed up their online marketing, but then, tragedy struck. Their website was hacked and their banking information was compromised costing them hundreds of thousands of dollars. They beefed up security protocols and weathered the storm just in time for the holiday season. Sales are $4.4 million for the life of the company as of December, 2021. As of November, 2022, the company is stocked up for Christmas time.